Star Designer's Redo of Para Games Uniform
No. 10
Greetings from Chinarrative.
A warm welcome to our returning readers and an even heartier hello to newcomers. If you like what you read, be sure to subscribe and please spread the word.
In this issue, we continue on the theme of disability—with a lighter touch.
Outfitting China's para athletes for opening ceremonies has always been a tall order, given the range of disabilities among the athletes and the competing demands of decorum. For the 2018 Asian Para Games, Chinese officials decided to venture outside the box, turning to star designer Wang Peiyi.
For a piece published by Meirirenwu in October, reporter Zhou Qu sat down with Wang—whose clients include Chinese A-list actresses like Gong Li and Zhang Ziyi—for a behind-the-scenes look at his meticulous design process.
We also bring you the long-overdue third and final installment of Southern People Weekly's profile of secondary school dropout Jiang Bo.
---
Star Designer's Para Games Uniform Makeover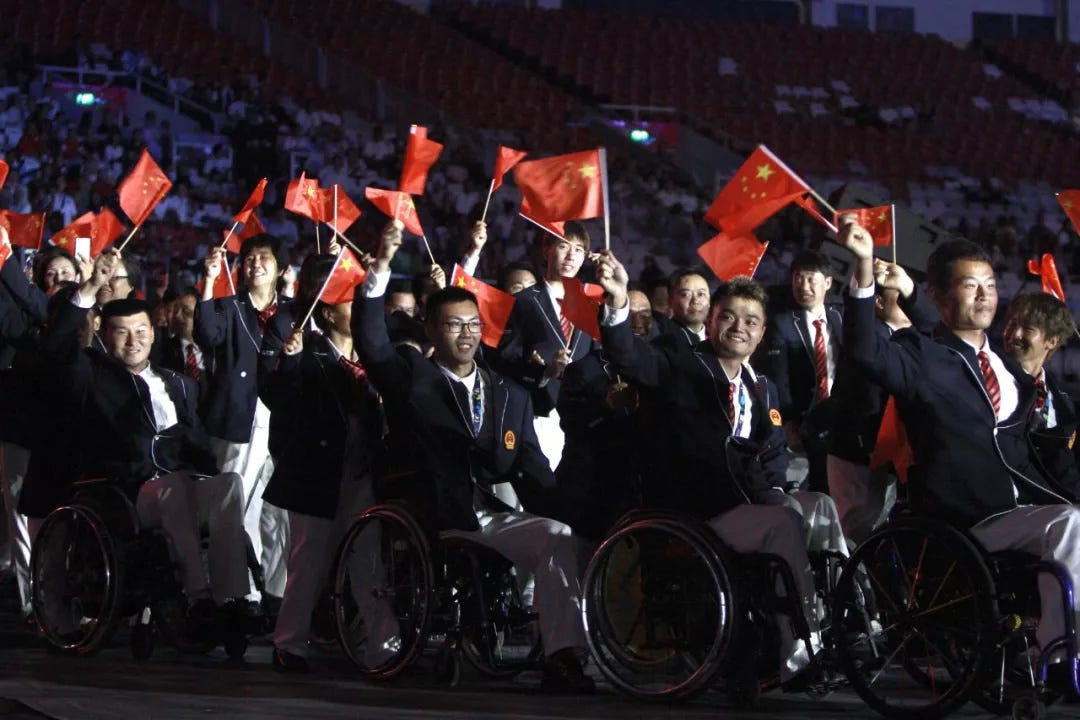 The Chinese contingent makes a dashing entrance at the opening ceremony for the 2018 Asian Para Games in Jakarta on Oct. 6. Courtesy Meirirenwu.
By Zhou Qu
Sitting in his office, Wang Peiyi kept his eyes fixed on his phone as he watched a video of the Chinese para national team. With its blue-and-white tones and sleek lining, their team uniforms looked especially eye-catching—and strikingly unlike the uniforms of years past.
It was Wang who had designed their attire for the opening ceremony. Before that, he had made a name for himself in fashion, often mentioned in the same breath as Gong Li, Gao Yuanyuan, Yang Mi, and other A-list actresses. He was even hailed as "China's groundbreaking designer" and "the red-carpet designer for top actresses."
Now Wang Peiyi would be crossing over from fashion to a different world: the world of sports. At past Para Games, athletes from other countries had drawn global attention for their opening ceremony uniforms. Some have likened the Olympic opening ceremony to Milan Fashion Week due to the significance of the uniforms. They had to be nothing less than functional and stylish while conveying an image of the country. But its success or failure hinged completely on the designer, and the Games also served as a platform for a competition between designers.
At the 1992 Summer Olympics, Lithuania's team uniforms were designed by Japanese designer Issey Miyake, who decked them out in metallic baseball caps and drawstring caped jackets. Still hailed as a classic today, that ensemble was a perfect blend of Lanvin menswear and Hood By Air's street style. Meanwhile, Giorgio Armani dressed the Italian team in sharp formal wear and athletic wear, reinforcing his country's status as the fashion capital of the world, whereas Ralph Lauren produced a simple, clean, naval-style uniform for the American team.
Yet when China joined the Para Games for the first time in 1984, the athletes wore borrowed uniforms. Then the color of "China red" started taking over clothing, spanning everything from red ties to red suits to red dresses. The use of red and yellow hues was so predominant by 2008 that people jokingly likened the color scheme to "stir-fried eggs and tomatoes," a popular, homestyle Chinese dish.
Chinese athletes enter the Bird's Nest stadium at the 2008 Beijing Olympics clad in their classic yellow-and-red color scheme, mockingly compared to 'stir-fried eggs and tomatoes.' Courtesy Meirirenwu.
But given his artistic ambition, Wang Peiyi refused to settle for anything so trite. He began by reconsidering the color scheme of the uniforms "because color and pattern leave the deepest visual impressions" and then boldly decided to retire the traditional red-gold pairing, saying:
These two colors are too hard to wear well. If models can't pull it off, then normal people don't stand a chance.
Instead, he wanted a dual palette that could convey a strong spirit and opted for dark blue.
That color was then paired with white pants and other design elements to create a sense of liveliness. For instance, white lines were threaded on the edges of the dark outerwear to make the colors pop, while the two-sided slit on the back of the jacket complemented the waistline. Gender designations were inherent in the uniforms as well: the men's uniforms had a single row of double buttons, and the women's version had a double row of single buttons. Lastly, Wang chose white buttons for added effect.
The tie was the central visual element. Its red-and-blue colors enhanced the red national emblem pinned onto the uniform, and its stripes, coupled with a crisp white shirt underneath, broke through the monochromatic blue scheme. The athletes' leather shoes capped off the entire uniform with a sense of stateliness.
Close-up of Chinese athletes donning Wang Peiyi's design at the opening ceremony for the 2018 Asian Para Games in Jakarta on Oct. 6. Courtesy Meirirenwu.
Simple as it might look, the uniform is actually a testimony to the designer's hard work and effort. Every detail of the design has a direct impact on the overall style.
Wang's colleagues often found him "too stubborn" because he would push them to work until they shouted, "It's good enough!" But Wang would not settle for "good enough." Taking no pains to gloss over his own prominence, he said:
It has to meet my exact standards. I need to be proud of the clothes that bear my name.
Indeed, many celebrities clamor for the opportunity to be dressed by Wang. Actress Gao Yuanyuan asked Wang to design a black strapless dress for her. Crouching Tiger, Hidden Dragon star Zhang Ziyi was wearing one of his jumpsuits when she accepted an award at the Hong Kong Film Awards. When actress Yang Mi married Hong Kong actor Hawick Lau in Bali, she was draped in a Wang-designed, half-sleeved wedding dress.
But athletes and celebrities have different styles: the latter sophisticated, the former simpler.
"I sometimes joke with (the actresses) that something has to give. If you want to look stylish, then you have to bear the discomfort," Wang said. The designer, however, who was born in the 1970s, prefers to wear torn jeans and black baseball tops in his everyday life.
The manual work that goes into designing red carpet looks is complicated, involving irregular cut-outs, custom tailoring, and ample amounts of crystals, embroidery, lace, and sequins. Wang usually spends several months' time designing a single gown, while his assistants work eight hours each day adding beads, sequins, or rhinestones by hand.
With this particular design project, though, Wang had to start from scratch. Simplicity was key, and although there was no complex ornamentation, the uniforms still reflected his design principles, through and through. But aesthetics could not come at the cost of comfort, so he used spandex for the uniforms to allow for flexibility.
Wang also had to pay close, equal attention to functionality and detail in designing uniforms for athletes with physical disabilities. The male athletes wore pants that had a custom-designed elastic waist belt, and their ties were easy to remove to save them from having to knot it by hand.
During their measurements, some athletes were sitting in wheelchairs and some were lying down. Some had uneven shoulders or impairments in their arms. Wang's team needed to take note of these different body types when placing uniform orders. They had to use looser dimensions and make adjustments to accommodate the athletes.
Outfitting the Para Games athletes was always a hassle, said He Lu, the deputy secretary responsible for social cooperation within the China Administration of Sports for Persons with Disabilities. He explained that the nature of outfitting Paralympic athletes meant accounting and customizing for each body type. However, their previous corporate partners lacked such experience, and the entire process—from designing to custom-making the uniforms—was beset by obstacles. For the 2016 Summer Paralympics in Rio, the Chinese team wore uniforms personally designed by Zhang Haidi, chairman of the China Disabled Persons' Federation (CDPF).
Yet the same issue of uniforms resurfaced as the team was preparing for Jakarta. Athletes all want to look sharp and fitted when they represent their country on a global stage. But with two months to go until the Para Games, the uniform problem loomed large.
"As time started getting tight, Alibaba heard about our dilemma and quickly decided to help us create a uniform," He said.
The e-commerce giant then approached Wang and asked him to design. Plus, his involvement could help pave the way for greater equality for disabled athletes while allowing them the opportunity to represent China in style. Both parties clicked right away over this opportunity for two seemingly disparate worlds to collaborate.
Despite having only a week to design, Wang insisted on seeing through even the minutest details. Wang hand-selected an easy-care fabric for the tops, which required special handling. However, the Tianjin factories were ill-equipped for that task and proposed a change of fabric. Wang refused.
To save time, Wang bypassed express delivery for in-person shipping, sending a handful of assistants on round-way trips between Tianjin and Jiangsu. They personally carried back the fabric for producing 500 sets of jerseys, which took care of the last step of the process.
There were still considerations to be made for style and aesthetics, however. The discussion over shoes alone led to nearly a dozen changes. In the past, athletes had favored a kind of platform trainers—"the kind that grannies wear while walking," Wang said. He insisted to the CDPF that footwear had to match the overall uniform and finally managed to sway them. Still, he had the factory use the softest sole possible so that athletes would find them comfortable to wear. He even designed their socks, touching them up with maroon and dark-blue stripes to complement to the colors of the tie.
On top of that, Wang poured a great deal of thought into designing the national emblem, but setting it in place was tricky. Using a pin to secure the emblem would leave a mark on the jersey, and it would still wobble if the athletes were moving around. But using a magnet would not hold it firmly enough. Finally, Wang and his team came up with a U-shaped clasp that could be tucked on the outside of the breast pocket. The clasp would hold the emblem in place without defacing the jersey, which could then be worn for other important occasions to come.
Wang Peiyi's team designed a special clasp that enabled athletes to easily attach and remove the Chinese national emblem from their Para Games uniforms. Courtesy Meirirenwu.
On the evening of Oct. 6, 232 Chinese athletes took to the stage in Jakarta, their uniforms instantly drawing global attention. Countless international athletes waved at them, sought them out for photos, and even praised their uniforms as "beautiful" and "stylish."
The celebrity of the Chinese team was Zou Lihong, a track-and-field wheelchair racing star who won two golds and a bronze at the Summer Paralympics in Rio two years ago. Surrounded by cameras, she straightened up proudly in her uniform and looked back at her teammates, saying:
Look how well-dressed our national team is today.
Translator: Katherine Tse
---
School Dropout Do-over: Part 3
We return to journalist Qiu Yuanting's lovely portrait of Chinese teenager Jiang Bo, whose older brother pulls him out of school to avoid bullying and abuse. You can read the first part here and the second here. In the previous installment, Jiang Bo ponders his future after a mixed experience at an alternative school. All names are pseudonyms.
Homeschooling
The catalyst for Jiang Bo's departure was his older brother's dissatisfaction with the class changes. Jiang Bo had originally found the classes "pretty fun," but they gradually changed over the year, becoming increasingly similar to traditional curriculums. They were now studying language, math, and English in the morning, then biology and physical education in the afternoon. They had more assignments, and they even had to prep for the senior high school entrance exam.
Jiang Wenhua saw this change as the result of chaotic classroom management. "Under pressure to use up all 10 hours of the children's days," classes were clearly underprepared. He had a discussion with the school about this issue, but it went nowhere. Two other families were equally unhappy, so they decided to contribute 20,000 yuan ($2,900) per family and homeschool their three children together.
But Jiang Wenhua heard his younger brother sobbing before they left. It was Chinese New Year then. He knocked on his door and after learning why Jiang Bo was crying, he got a piece of paper and a pen, saying, "Let's make a pros and cons list of F Academy versus homeschooling with the three families."
This was a thinking tool that Jiang Wenhua had learned at work and that Fengwo School, a learning platform for children, often applied in its classes. After Jiang Bo calmed down, they started making their list.
The disadvantages of the three-person homeschooling group was a limited network, a potentially narrow pool of knowledge, and inadequate self-discipline. The advantages of the academy were the sentimentality of staying and the chance to widen his horizon, but its irredeemable disadvantages were its learning environment, the way instructors treated students, and the school's approach to problem-solving.
Jiang Wenhua wanted Jiang Bo to make the decision on his own, rather than making the "right" choice on his behalf.
In March last year, under the supervision of one of the parents, the three male students who had left the academy rented a place together and set their own study schedule. They would wake up at 8 a.m., make breakfast, and read all morning. In the afternoon, they would work out, either playing basketball for at least one hour, running no less than 4 kilometers, or lifting weights.
For reading, Jiang Bo preferred fiction, like the works of Keigo Higashino or Agatha Christie, the Chinese sci-fi novel The Three-Body Problem, or The Moon and Sixpence, but he usually asked his brother for book recommendations.
Their plan went smoothly at first, but it didn't take long for their discipline to slip. They would start playing computer games whenever the parent wasn't around, so they ended up carrying out their study plan only three or four days out of every five days. Before six months had passed, this casual group of homeschoolers disbanded, with the other two students pursuing different goals.
One of them would attend cram classes to prepare for the senior high school entrance exam, while the other boy would become a professional bowler. They originally had different reasons for leaving the academic system as well. The first boy was like Jiang Bo, a passive "school dropout" at odds with exam-oriented education. The second boy left because of his parents' frustration with the exam system and sought change more proactively.
These real-life cases reflect the data found in studies. According to the Report on Homeschooling in China (2017), 68.66 percent of home-schooled students "had received a certain level of in-school education and usually had an unhappy academic experience at school." In opting to homeschool their children, 73.13 percent of parents said that they "disagree with the school's teaching philosophy," closely followed by 71.64 percent of parents who "disagree with the school's teaching methods." In terms of duration, though, only 24.63 percent of homeschooled families were able to last for two years or more.
Jiang Bo was still trying to find a path for his future. The results from his career planning at F Academy had suggested trade school. He was interested in playing guitar at the time and, after speaking with Jiang Wenhua, felt that there was potential in becoming a guitarist. But he found it "tiring" after learning it for half a year. Apathy settled in, and he quit.
Jiang Wenhua had steered the course of his younger brother's school withdrawal, but he felt that he needed to tell their parents in order to figure out a direction soon for Jiang Bo. Jiang Bo was still two years away from becoming an adult, and the age of 18 loomed like a stark deadline. Jiang Wenhua had to help his younger brother to find a direction for his future that would at least have the semblance of a livelihood.
The Light at the End of the Tunnel
Jiang Bo in a reflective moment (back facing camera). Courtesy Southern People Weekly.
Jiang Bo began reconsidering vocational school anew. Given his interest in gaming and animation, he thought about game design for the first time. But he was frustrated with his online search for openings, as well as relevant schools, because jobs in that sector largely sought graduates of Chinese literature and language or film and television screenwriting. They also had certain requirements for literacy and education. In addition, education companies like Xinhua Computer College and Beijing Aptech Beida Jade Bird either lacked those programs or carried courses that Jiang Bo deemed were "weak."
After the homeschooling trio disbanded in August last year, Jiang Bo spent two weeks hanging out in Guangzhou with Jiang Wenhua, whose respect of Jiang Bo's initiative grew. Jiang Bo, who was considering animation design, used suggestions and information from a friend to narrow his options down to three animation schools in Guangzhou. Weighing his own ability and skill level, he ruled out one more, then phoned the remaining two schools with questions and made appointments to visit their campuses. He ended up choosing the school that was slightly more expensive and bigger. It also offered a better learning environment.
But after paying tuition and going to class, he realized that their teaching method of live-streaming the classes and gliding over fundamentals left him—a beginner with no grasp of the basics—lagging behind. Consequently, he negotiated with the school for a refund and transferred to another school.
Jiang Wenhua said proudly of his brother's growth:
He managed this entire process by himself, from beginning to end.
In October, Jiang Bo officially moved to Guangzhou to a shared dorm near the his animation school. He took care to pack his three most valuable model figure kits: an unpainted figure set, a collector's model, and an anime model. The school was situated in one of Guangzhou's newly developed districts, which had glass skyscrapers and a central business area on one side of the street and one-storied homes and construction sites on the other. Jiang Bo lived on "the other side."
The 15-minute walk from the school to his dorm traversed the narrow alleys between the skyscrapers, algae-ridden pools of standing water, and train tunnels. His tiny, single apartment was designed only with one bedroom, one living room, and one bathroom, but it was split into two dorm rooms. Jiang Bo resided in the living room, which had a kind of steel bunk bed commonly seen in college dorm. He slept in the lower bunk and stacked his personal belongings in the upper bunk. His computer sat on a wooden table next to the bed. His beloved kits were placed between his laundry detergent and his body wash. His roommate, who was considerably older than him, often said with envy, "I can't believe you're only 17."
Jiang Bo learned set design first before transferring to character design. His initial enthusiasm lasted for about three months. At the height of his diligence, he would wake up at 5 a.m., head to the computer room, and work on designs there until he returned to his dorm around 10 p.m. As he worked, he would listen to Japanese ACG (anime, comics, and games) songs through his headphones. Back then, he solemnly swore to all his friends on QQ, "I am going to become an anime designer in the future!"
But lethargy crept in. He began waking up later, sometimes not getting up until 10 a.m. for a 9:30 a.m. class and then rushing over. He was sometimes gripped with the fear that he would repeat his past failures:
Will I end up quitting halfway like I did with guitar?
His course was only a crash course. Although Jiang Bo recognized that he still lacked a solid foundation in drawing, he had to collect samples of his works anyway and start submitting his resumes to internships or full-time jobs, even if the salary was low. That was his consensus with Jiang Wenhua. Jiang Bo's short-term goal was to prove himself by taking this class, after which he would seek opportunities to build upon that foundation or continue pursuing his art studies.
He fretted over writing his resume. The teachers at the animation school told him that resumes could be padded as appropriate, but he wondered if he should be honest about his academic background. How much would the employer care about one diploma? He had no way of knowing until he had some experience under his belt.
As he talked about this, he was on his way from his dorm to the computer room. He made his way through the dimly lit tunnel, the bright beams of the setting sun spilling through the upper cracks. Jiang Bo was originally awash in the darkness but continued moving forward, step by step, his head held high amid the dazzling sunlight.
Translator: Katherine Tse
---
Past Issues