Greetings from Chinarrative. In our second longread of the year, we shift focus to the domestic sphere. What is the state of the Chinese family in the late 2010s? Family judge Zhou Bingyi offers some insight in a candid interview with Southern People Weekly's Qiu Yuanting. Zhou is the chief judge at the family court of the Yushan District courthouse in the eastern industrial city of Ma'anshan in Anhui Province.
Besides her brutal honesty, Zhou's account is also remarkable for its rich, revealing anecdotes and blunt policy suggestions for a system that's still very much evolving. Family court is a relatively new development in mainland China, the first such court having been established only in 2011. Before that, family cases were considered alongside other civil matters.
New to Chinarrative? Subscribe here. Past issues are archived here. Thoughts, story ideas? We can be reached at editors@chinarrative.com. We also welcome original English submissions.
---
Witness to 200+ Divorces a Year: A Chinese Family Judge's Story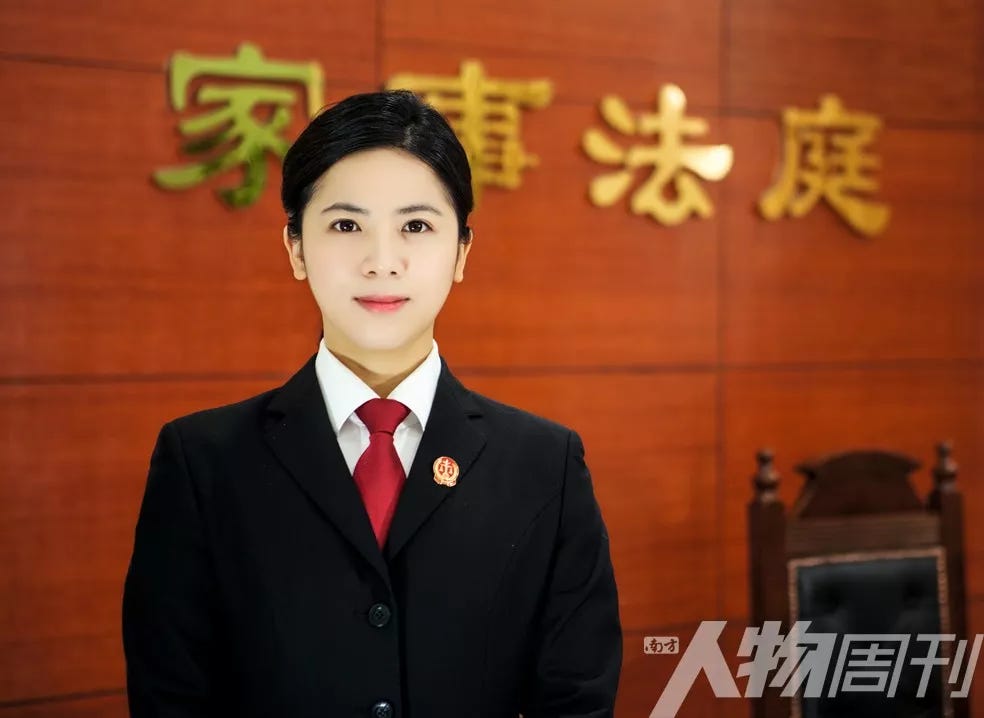 Family judge Zhou Bingyi. Courtesy Southern People Weekly.
I am a judge serving in a local family court. I handle more than 200 divorce cases a year. In other words, I come into contact with more than 200 families on the verge of breakup.
When I first started handling divorce cases, I stuck with the general trend and refrained from granting divorces after the initial petition.
During the first hearing, once the other party challenges the divorce and if circumstances don't warrant mandatory approval—such as in cases of polygamy or domestic abuse—the judge can start dilly-dallying. Really, he or she can stop listening and go straight to a rejection. That's the safest move for the judge.
The risks of granting a divorce immediately include threats from either party and a high appeal rate. If a divorce is granted without careful consideration, the fallout might be never-ending.
Many judges figure that anyone who wants a divorce badly can refile their petition six months later, plus an initial rejection is basically expected. Most lawyers and petitioners have already factored it in.
The rejection rate for divorce cases after the initial filing is relatively high in China. When I attended Renmin University's fourth conference on marriage law last year (2017), a lawyer asked:
Why don't you judges grant divorces at the initial hearing? What's your thinking?
I was a speaker that day as well, the first on the schedule that afternoon. I ditched my prepared remarks, offering my views on my work and the relationship between judges and lawyers instead.
Relatively speaking, I am a rather impulsive judge. I've granted many divorces after the initial filing. I've always been the bad guy (laughter). But I said that day that indeed, many local courts tend to reject initial divorce filings.
The first reason is we're simply too busy. The current filing system had generated a deluge of cases and the quota system for judges has translated into fewer jurists, which means everyone has to handle more cases. There's also a time limit on cases. It's simply impossible to delve deep into a case. An initial rejection is the most hassle-free approach.
The second reason is that some petitioners have acted rashly. An initial rejection gives them time to work on their relationships. We've actually run into applicants who initially filed for divorce but ended up heatedly berating us for not suggesting mediation first. I came across a young couple once. One party filed for divorce as a bluff, but lo and behold the other actually agreed, leaving the petitioner dumbfounded.
These are cases that occurred before the recent reforms that implemented a mandatory "cool-down" period before the divorce takes effect. When both parties agree to the divorce, it's automatically granted. And yet once approval is granted, we face a backlash. "How come you didn't try mediation?" "Did my spouse pay you off?" "You're a woman too. How could you do this to me?"
The third reason, which is very important, is that judges and lawyers have different missions, so they look at the same issue differently. A lawyer is advocating on behalf of his or her client to the best of his or her ability, while a judge's role is to balance competing interests. It's only natural they arrive at different conclusions about the same case.
The fourth reason is that as "impulsive" of a judge as I am, I am extremely careful when it comes to families that have children. The impact of a divorce case isn't short-term. More often than not they have profound repercussions on the rest of a child's life. And these kids will be getting married and having their own children in 10 or 20 years, as they become the driving force behind social progress. Being cautious now is a way of taking responsibility for our future.
The fifth reason is that judges have to look out for their own well-being. Many petitioners don't consider themselves the main reason for the breakdown in their marriages. Some actually blame the judge for tearing their families apart. Others believe that when a court is biased whenever things don't go their way, that the judge is in their spouse's pocket.
"If You Approve the Divorce, I'm Going to Down Pesticide"
The more serious examples of violence against judges in recent years have all stemmed from divorce cases. Headlines like "Petitioner Seeks Revenge Against Judge over Divorce Ruling" can be easily found in a search engine query. There was one such case in Luchuan province in Guangxi Province last year. (Editor's note: On Jan. 26, 2017, a man stabbed retired judge Fu Mingsheng to death in Luchuan. The man, who physically abused his wife, appeared before Fu on a divorce case. Fu granted the divorce as required by law, but the husband nursed a grudge against him. On Aug. 25 that year, the man was sentenced to death for voluntary manslaughter.)
The worst abuse I have faced is verbal abuse and stalking. Once when a rather fierce-looking woman who had appeared before me asked to see me, I brought along some court documents that didn't pertain to her case, so I could shield my face in case she decided to pour acid on me.
Luckily, I have escaped unscathed so far. We meet all sorts of characters in court, like Li Yun. All of my colleagues have worked on her case at some point. She is a woman from a farming community whose husband has petitioned for divorce three times.
Li Yun was steadfast in her refusals, saying she loved her husband deeply. Her husband worked in the city and took on a girlfriend. The couple have been living separately for an extended period and didn't communicate. But Li Yun had heard about a fellow villager whose cheating husband ultimately returned home after getting old, so she was confident her husband would do the same. She also thought getting a divorce was a major loss of face.
In reality, the husband no longer had any feelings for his wife and avoided any contact with her. Li Yun would kick and scream to avoid a divorce. She's made a scene at the courthouse and the local police station.
She tumbled on the floor in the courthouse's reception area and broke a glass window at the police station, which led to her arrest for disturbing public order and damage of public property. She called her husband while she was detained, asking him to deliver fresh clothes, but her husband ignored her.
The case was initially handled by my colleague Hou Weijuan, whom we refer to affectionately as Xiao (Little) Hou. Before the initial ruling was handed down, Li Yun visited Xiao Hou with her elderly mother, a bottle of pesticide in hand. She said:
If you grant the divorce, I'm going to down the pesticide.
Xiao Hou was terrified. She was genuinely afraid that Li Yun might drink the pesticide. Caving to the pressure, she ruled against the divorce. Li Yun's husband filed for divorce again six months later. This time the case was assigned to another judge, but the result was the same.