Discover more from Chinarrative
In-depth storytelling from and about China.
Over 2,000 subscribers
The Moon in a Dog's Eye
No. 7

Hello from Chinarrative!
In this issue, we'll be venturing to the creative end of the nonfiction spectrum with a subtle-yet-powerful piece by China-born writer Sonia FL Leung.
Leung gives background on the piece, explaining:
It tells the story of a broken 14-year-old me surviving a night alone at a construction site in Hong Kong. With the current #MeToo movement, I'd like to add my voice and say to the girls like me who have fallen victim to rape that the incident can't defeat us. We can grow out of the ashes of our sorrows and soar.
Also in this issue, we reconnect with Chinese teenager Jiang Bo, accompanying him and his brother as they try to navigate a path through China's rigid education system.
---
The Moon in a Dog's Eye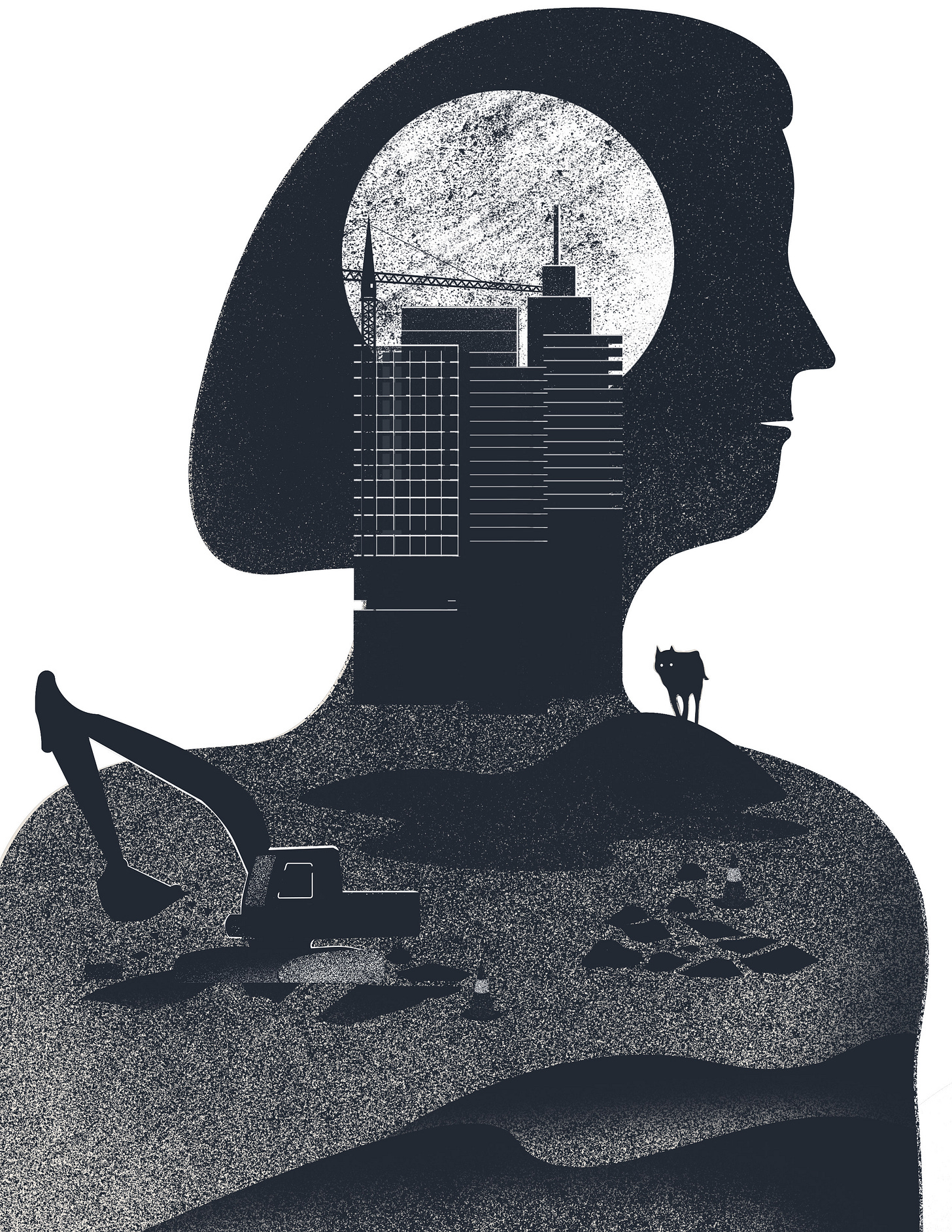 Credit: Charlotte Fu.
By Sonia FL Leung
On a late September school night in the small hours, I gaze at the moonlight that slides gracefully through the rusty iron gate of our hut. Her gentle light transforms the entrance and the steps beyond it, giving them a magical glow. The tranquility allures me. The peaceful world out there beneath the moon's gleam generates an urge in me to join her.
The rest of my family is sound asleep. Creeping down from my upper bunk bed, I unlock the gate and walk away. My slippers are stardust, carrying me away from our home. Weaving through the narrow paths of our slum, my body hurries toward a nearby construction site at Tate's Cairn Tunnel in Diamond Hill. I need space, a quiet place where I can hear my breath.
Light from distant streetlamps and high-rises casts a nebulous luminance over the deserted construction site. Rubble, cranes, debris, and equipment lie all around in the cavernous gloom. Piles of sand and ragged holes lie here and there. A few hard hats lie around, and some long, worn-out black rubber boots have been left near the silent machines and graying dumpsters. Cigarette butts litter the bulldozed earth.
Some distance away, a car roars by and interrupts the silence. And then another car follows. The air is crisp and clear. During the day, the ravenous construction site stirs up the dust, harassing it nonstop. The site is sated now and allows the dust to float back down to the ground. The weak pulse of the dusk quivers under my feet. It wails.
Gently, I wiggle my toes in the cool earth, mingling with the dirt and kicking at it until little motes of dust blossom up around my ankles. Hues of gray, blue, and black streak the sky. Wind passes through the site in gusts. A safety vest dangling from a hook swings in the breeze. The wind slices right through my flesh to the bone, leaving an empty chill in its wake.
I peer into a dark hole, where I see that table-tennis coach. He has floundered down there since April, unable to claw out of the pit. No one can harm me now. Skipping over the holes, I climb into the cabin of the crane, go down a slope, kick at some empty cans, and wander around the site.
Then I notice that I am humming my favorite nursery rhyme:
"Lan lan de tian kong yin he li…" or, "Over the blue sky there are silvery streams, the Milky Way…"
Worries dissolve into the song. The shamefulness of being a damaged "dailukmui," or a filthy mainland girl in Hong Kong, loosens its grip on my throat. For now, the earth, the sky, and the wind merge with the silent void of Diamond Hill. I breathe. Tender is the wind's caress, a feathery touch upon the bare skin of my arm.
Then I walk and jog away from the ravaged earth until my legs are sore and my adrenaline has subsided. At the exit of the catchment channel, there is some grass to sit upon and regain my composure. Bushes shield me. Drawing up my knees and wrapping my arms around them, I lean back on the wall.
When I was 12 years old, my family emigrated from a village in Fujian, China, to Hong Kong. I was in Primary 6 back then and had not had one English lesson yet. Thus I was downgraded to Primary 4 to catch up on my English. This left me feeling like a complete outsider, an utterly out-of-place teenager.
But that was when a youth center's coach discovered me. "You're such a talented player, Fongling." He leaned forward, put his bony hands on my shoulders, looked me in the eyes, and said, "I can get you into the official HK Junior Table-Tennis Team."
For a whole year he trained me hard and gained my total trust. Then one night, those same hands of his turned gaunt and groping as they tore my body and shattered my dreams.
But now the moonlight mends my body and soul. Her grace cleanses me. I pull my knees closer to my breasts, embrace them, embrace the fragile new me. The sound of my breath shrouds me, soothes me. Resting my head on my kneecaps, my eyelids are about to shut when something stops them.
A black dog stands right in front of me. Its bones poke out of its flanks. From 10 feet away it stares at me with big, bright eyes. They seem to bulge out of its skull. And when those eyes focus upon me, they turn livid.
"Do you know what I do to little girls?" say those dog eyes.
I slowly uncurl, shifting myself into a different position with my hands flat upon the ground, sitting erect, glaring back at it.
The black dog turns its head sideways, and I see the moon in its left eye.
Neither of us flinches.
The moon's cool, sharp light beams through my mind, advising me to hold my ground, steady my gaze. She emboldens me.
Yes, I can protect myself and reclaim the sovereignty of my body. No, this dog does not belong on the ground. It belongs in the pit with the coach.
I raise my head, pull back my shoulders, straighten my spine, and intensify my glowering at the black dog. The sudden extension of my upper body and escalation of my spirit astound it. It cocks its head to the right and slides backward a bit, still glaring at me. But its muzzle lowers and the light of its eyes dims. It slinks away, craning its neck to look at me as it retreats to the direction of the pit.
I keep my posture for a few more minutes. When the dog's tail is entirely out of my sight, I collapse upon the grass. Cool dew seeps through my skin. My sweat-drenched body shivers.
Sonia FL Leung earned her MFA in creative nonfiction writing from the now-defunct writing program at City University of Hong Kong, the metropolis in which she resides. Her work has been published in The Shanghai Literary Review, Cha: An Asian Literary Journal, Linepaper, and Afterness: Literature From the New Transnational Asia.
"The Moon in a Dog's Eye" was first published in the Chengdu-based MaLa Literary Journal in March 2016. It's a scene from Leung's recently completed memoir, That Olive Tree in Our Dreams, for which she is exploring publication opportunities.
---
School Dropout Do-over: Part 2
This is the second of three installments by reporter Qiu Yuanting that first appeared in Southern People Weekly. Read Part 1 here. We pick this story up just as the youth has been plucked from the traditional school system following an intervention by his older brother, Jiang Wenhua. All names are pseudonyms.
A Short-Lived Freedom
After Jiang Bo provided the school with his medical certificate, they released him. In the blink of an eye, he was no longer a registered student. While everyone else shouldered their backpacks and headed to class, he could finally stay at home and just play computer games.
Jiang Wenhua gave his brother two months to relax, until Jiang Bo himself finally got bored. At the time, Jiang Wenhua, who was in college, was planning a motorcycle trip to the Xinjiang Uyghur Autonomous Region, located more than 3,400 kilometers northwest of their hometown, Guiyang. Since Jiang Bo was lounging around at home, it made sense to invite him on the initial leg of the trip and drop him off in Chengdu, only 652 kilometers northwest and along the same route to Xinjiang.
Those three days on the road were some of Jiang Bo's happiest times—and one of the safer stretches of Jiang Wenhua's trip. Jiang Bo slept a lot and would often nod off on the back of the motorcycle, his arms wrapped around his brother. This forced Jiang Wenhua to drive carefully, lest his brother fall off. Later, when he motorcycled solo around Xinjiang, Jiang Wenhua got into a speeding accident. He told Jiang Bo earnestly, "Maybe this wouldn't have happened if you had been riding with me."
They also had their share of conflict. Once, when Jiang Wenhua got angry, he dropped Jiang Bo off in a small village, told him to find his own way back to Guiyang, and immediately rode off. But Jiang Bo stayed where he was, waiting until his brother had a change of heart and came back for him.
Another time, they suddenly encountered pouring rain that filled the streets with mud and caused the manholes to overflow. They rode for an hour in the mud and rain without seeing another soul or finding shelter. During their trip, they also passed fields of sunflowers and rapeseed along the national highway. They would chat with the farmers selling watermelons by the roadside, who taught them how to knock on a melon and listen to its sound.
Reminiscing brought back all these memories for Jiang Bo. Even the difficulties he was experiencing at the time became lighthearted recollections, prompting Jiang Bo to conclude that traveling via motorcycle was more fun than driving. When their journey drew to a close and Jiang Bo arrived at the Chengdu airport, he still had his motorcycle helmet strapped on.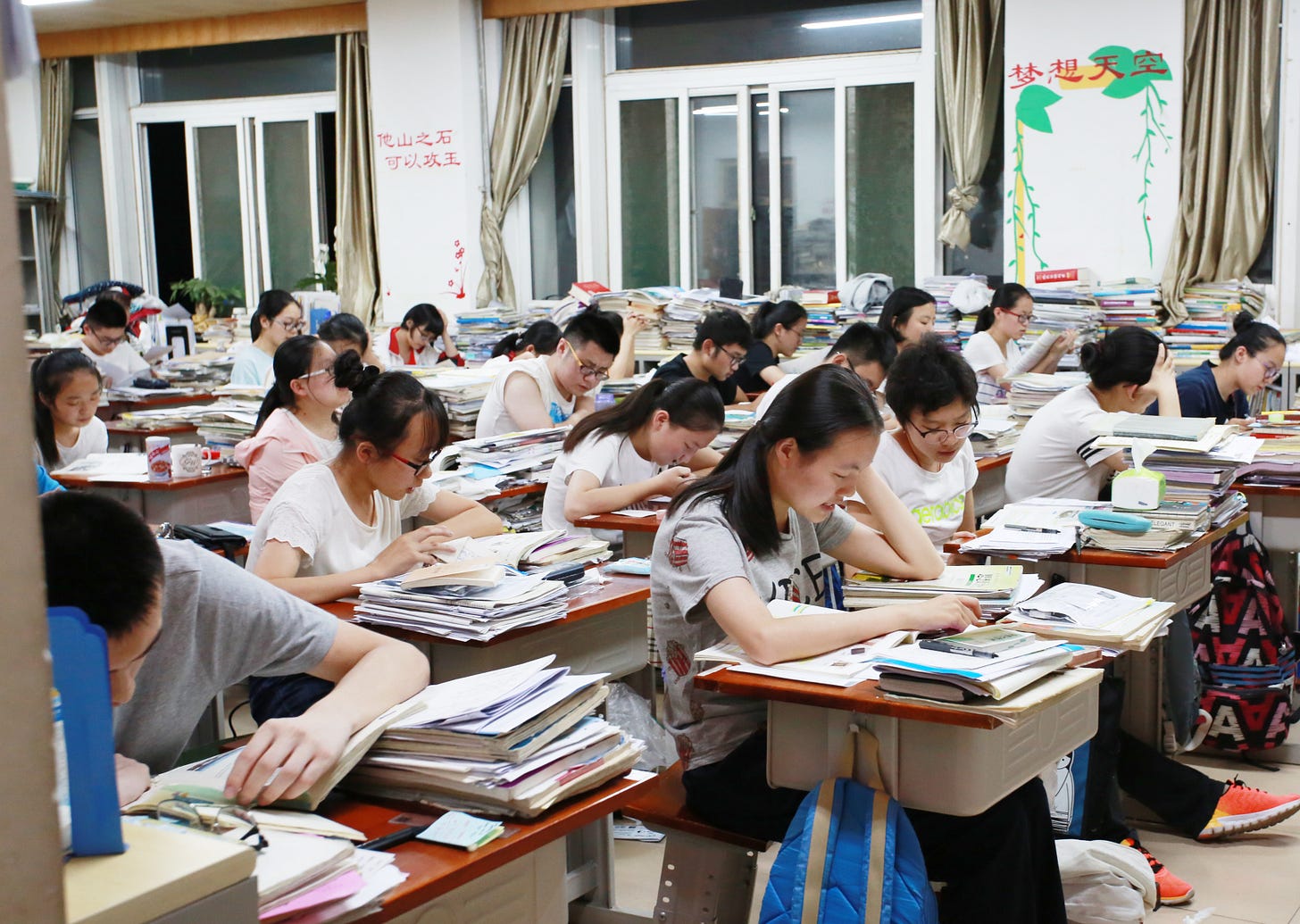 Chinese students prepare for the national college entrance examination on June 7, 2017. Credit: ImagineChina.
September approached. Unable to live with the idea that their son might not graduate or receive a diploma, Jiang Bo's parents began having second thoughts as a new semester unfolded before their eyes. Unbeknownst to Jiang Wenhua, his parents recruited their uncle to oversee Jiang Bo's education and offered him 150 yuan ($22) a month as an incentive. They wanted Jiang Bo to re-enter the public school system, this time at the newly opened public middle school in their old county.
Because it was his second round of sixth grade, Jiang Bo became the star student for a while. But after soon falling behind in math and English, he turned against studying altogether. On top of that, Jiang Bo had relocated from a major city to a rural village. He wore clothes that were normal for the city but marked him as a "rich kid" in the countryside. This drew special attention from teachers, while other students privately felt that he was flaunting his wealth.
At first, Jiang Bo reveled in his "rich kid" status, with so many students trying to curry favor with him. Suddenly, money was a means of achieving social fulfillment. He invited his classmates to the movies, treated them to snacks, and added money to their computer game accounts. When he ran out of money, he would steal from his parents. If he had asked them for money, they would have scolded him.
He admitted to having bad habits like laziness and lying, but then he would quickly direct his ire at his family, saying: "I hate the lies I blurt out sometimes, and I want to change. But Dad promised to take me to an amusement park when I was 6. I'm in sixth grade now and still haven't gone. He tells me to be disciplined, obedient, and clean, but he doesn't even do any of that himself. I think there are words and then there are actions, which are two separate things altogether. It's hard to change once your habits become fixed."
Jiang Wenhua heard in a roundabout way from a friend's friend that Jiang Bo had returned to school. Jiang Bo had never seen such anger from his older brother, who called and "chewed me out for a while [as he was road-tripping] on the Sichuan-Tibet Highway." Right after that, Jiang Wenhua yelled himself hoarse at their parents.
Looking back, Jiang Wenhua felt that his outburst stemmed from his own fears. Was his decision truly in his brother's best interest, or was it just motivated by his desire for control? Although he insisted on making this decision in place of his parents, he had no way of securing his sibling's future. If he failed, he had only himself to blame. It was sink or swim for Jiang Wenhua and Jiang Bo.
The Academy
Jiang Wenhua had to give serious thought to Jiang Bo's educational options after withdrawing him from school yet again. It was the winter holiday then, so he first sent Jiang Bo to a weeklong winter camp at Jianchuan Museum in Chengdu. Afterward, he returned to Chengdu and spent a month happily couch-surfing, watching movies, strolling through parks, and visiting [the tourist town of] Dujiangyan.
At the winter camp, Jiang Bo befriended a classmate who attended the Xianfeng School in Chengdu, a leading institution in creative education whose curriculum focused on independence, critical thinking, and flexibility.
The vast majority of those sorts of schools offered only preschool and primary education because a lack of resources, funding, experience, and other problems limited their expansion into secondary education. The Xianfeng School, however, was one of the older, more developed secondary schools. An insider who had previously visited Xianfeng told me that it had an independent spirit. With all the love, freedom, and trust from the school, so-called problem youth were able to realize their potential.
Jiang Wenhua, who had previously heard of Xianfeng and had considered it, encouraged Jiang Bo to experience the school for himself and then decide. He and a friend toured the campus and found that classes and assignments were all voluntary, even though the school operated on an academic credit system. Jiang Bo was a little worried that it would be a rigorous system, and because he had zero confidence in his self-discipline, he decided to look at other schools instead.
F Academy (a pseudonym) in Guiyang soon came onto his radar. In terms of scale, it was more like a private school. It had two buildings, one for classrooms and one for dorms, along with a social activities center. Jiang Bo recalled that during his visit, he saw 11 or 12 very different students all mixed together in the same class—some in middle school and others in high school, their ages ranging from 11 to 18. Jiang Wenhua audited their classes and came away with a good impression.
The academy advocated holistic education; the classes centered around discussion and practicum; and the wide-ranging curriculum included Cambridge English, archery, yoga, vocals, drama, arts, and more. Every Friday, F Academy organized study-abroad programs and outdoor field trips, or would invite guest speakers to share their experiences of working in various industries.
The two brothers persuaded their parents to pay tens of thousands of yuan for tuition. Then Jiang Bo moved to the school and began his third round of sixth grade. The headmaster actually slept in the bunk under Jiang Bo's. The academy wanted to create the atmosphere of a happy family, so it gave students the autonomy to create their own rules and collectively enforce them.
But Jiang Bo soon realized that where there are people, there are politics—and the fewer the people, the harder it is to avoid the politics.
He witnessed a male high school student drag someone into the hallway and beat him, so he told a teacher in confidence. But in dealing with the problem, the teacher named Jiang Bo as the source, which turned him from the newcomer into the tattletale and traitor of the group. He would get hit with the ball in basketball class; another time, a group of classmates marched him off into the underbrush and threatened to cut off his hands.
Jiang Bo felt that he had dealt with a wide variety of people, but the kind of people he truly couldn't stand were those whose sunny, harmless countenance belies a conniving, two-faced side. Even though their teachers would engage meaningfully with them, Jiang Bo grew more and more disappointed. At best, that kind of counseling only eased people's emotions in the moment but never really resolved the core issue.
The teachers even casually broke the first rule that had existed when Jiang Bo was admitted. Originally, everyone had agreed that the normal routine for middle school classes was studying in the morning, reading and watching films in the afternoon, and doing independent study in the evening. Then one day, the teachers impulsively announced that everyone would have to get up at 7 a.m. to run, starting the next day. Their deliberative democracy had given way to absolute rules.
The headmaster, who was once a basketball coach in his former province, highly valued fitness and personally oversaw the morning runs. In retrospect, though, improving his fitness turned out to be Jiang Bo's greatest accomplishment from the academy. Running 500 meters used to leave him winded, but he gradually progressed to running 4 kilometers and then up to a quarter marathon.
Then he witnessed the headmaster who, in a fit of rage, hit a table so hard that it broke in front of everyone. Jiang Bo suddenly realized the gap that existed between him and the headmaster, who had referred to Jiang Bo and himself as "bunk-bed brothers."
Was this really one big family? Jiang Bo had seen teachers break the rules and the headmaster lash out in rage. Sometimes, he felt that the "big, happy family" label was simply there to brainwash the students and keep them enrolled at the school.
Jiang Bo cried for a while in his room, struggling to decide whether to stay or go. In spite of all the school's problems, Jiang Bo had had a relatively happy, successful two years at F Academy, compared with his experiences at other schools. He still remembers the presentation he gave on a study trip to Chongqing [municipality in southwestern China]: He could feel his improvement in every step of the process, from brainstorming and design to the actual presentation, and it boosted his sense of independence as well.
Still, he eventually decided to shake off the fetters of this "big family."
To be continued…
Translator: Katherine Tse
---
Keep an eye out for our next issue, in which we share a gripping longread about a grieving Chinese father who enters the dark world of online death-pact groups in a bid to save lives.
If you enjoy this newsletter and would like to help us spread in-depth, personal stories about China, please share with family, friends, or colleagues. The sign-up page can be found here.
Until next time!
---
Past Issues