Greetings from Chinarrative!
In this issue, our single, longread investigates the lives of disabled customer services representatives who work for e-commerce giant Alibaba's Taobao platform. The story was first published in September in Renwu, a leading nonfiction platform in China.
While the piece does contain some glowing references to the company, founder Jack Ma, and its Singles' Day mega shopping festival, that doesn't change the facts nor the essence of the subjects' stories, and the piece offers rare insight into the plight of China's disabled poor.
---
Father Was His Gentlest On Road to Orphanage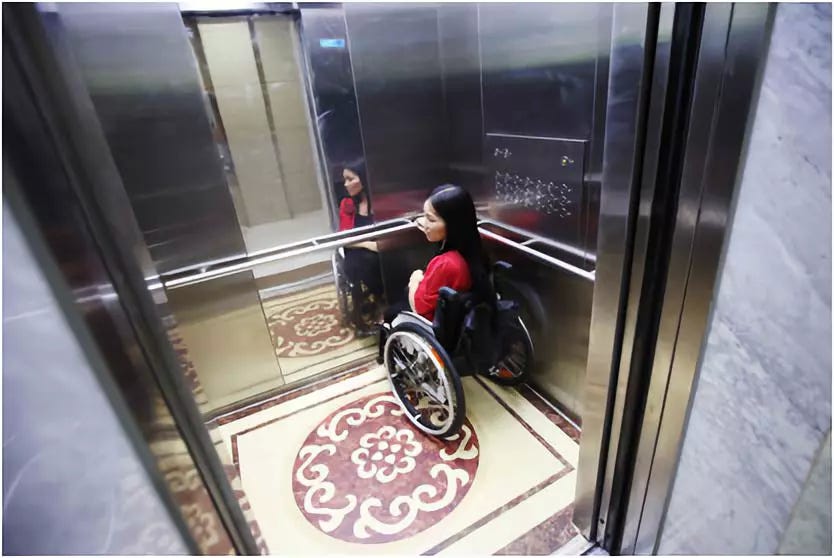 Liu Xiang takes the elevator at the headquarters of the Henan Disabled Persons' Federation in July 2018. Courtesy Renwu.
After some basic washing up in the morning, Liu Xiang donned a red jacket and rolled her wheelchair into the sunlit corridor.
Polio had completely distorted her spine into an "S" shape. Her bladder was also damaged. Even sitting still for an extended period was very painful. But as far as Liu Xiang was concerned, the moment she pushed through those doors and entered the computer-filled office of Taobao online customer service representatives, she was no longer the least fortunate person in the room.
Alibaba set up an online customer service operation for its Taobao website in 2010 with an eye toward providing part-time employment for university students. But soon executives noticed that the physically disabled faced an uphill challenge landing jobs and so they expanded their recruitment.
Liu Xiang's colleagues started filing in. They were collectively known as the "special" online reps. One had suffered major burns and another could only maneuver two of his fingers. A third colleague couldn't lift his arms and could only type by cradling his keyboard in his lap. A fourth lost his arms in an accident and typed with his feet.
Pleasantries were exchanged, followed by the sound of typing. Liu Xiang turned on her computer, logged in and clicked on a flashing window to type her opening greeting:
"How do you do, dear? Happy to be at your service."
Human Waste
Born in Xinyang Village in Henan province, Liu Xiang contracted polio when she was 3. Her legs started shriveling like dying branches. Soon she could only wiggle on the ground by latching onto a small stool.
When she was old enough to understand speech, she once overheard an elder in the family tell her father: "Her legs are immobile. All you have to do is fill up a basin, dunk her in the water and press her head down…"
Her father didn't take the advice, but his disgust grew by the day. Liu Xiang was followed by another girl and her mother was chronically ill. The immense pressure turned her father, who was kind by nature, into a tyrant. Liu Xiang was called a "cripple" who drew a tongue lashing for merely making a sound, saying:
I was either being beaten or scolded all the time.
The year Liu Xiang turned 9, her father decided to give her up for adoption, so he could get government approval to have another child.
On a dark night, Liu Xiang's father carried her on his back and took her for an extended trek in the mountains. He said he was taking her somewhere that was better than home. She could even get an education there.
Liu Xiang's father was unusually tender during the trek. Lying on her father's back, Liu Xiang felt a sense of security she had never experienced before. Her father whispered:
Are you sleepy? If you are, go ahead and take a nap.
The "better place" turned out to be an orphanage.
After her father abandoned her, he told his fellow villagers that the "cripple" had died. After spending several months at the orphanage, she was returned to her parents when local police intervened.
Somehow Liu Xiang survived until her 16th birthday, when she left her village for the first time. Her family used their savings to buy her an electric tricycle, so she could become a cabbie in a neighboring town.
The city was another form of torture. Her fellow cabbies were mostly healthy and able men. They could help their passengers with their luggage and open doors for them—tasks that were impossible for Liu Xiang. She was frequently bullied. Some fellow cabbies tried to steal customers from her by standing next to her tricycle.
Back then there were few disabled-friendly facilities in the city. Liu Xiang had no choice but to visit the bathroom once in the morning and once in the evening. The practice took its toll on her bladder over the years, eventually leading to incontinence. She has worn adult diapers since then.
Even scam artists who staged fake accidents liked to target her. The worst case was when a repeat offender rammed into Liu Xiang's tricycle on purpose and faked a seizure. He demanded 1,000 yuan (around $144). Liu Xiang, 16 at the time, was a greenhorn and thought she had actually injured someone. She was terrified. Thankfully, sympathetic onlookers helped talk the scam artist down. Liu Xiang eventually paid out some 500 yuan, a month of her earnings.
Liu Xiang's marriage didn't fare much better. When she was 20, a matchmaker introduced her to her husband, a man with an amputated left leg 17 years her senior. Liu Xiang never fantasized about genuine romance. "I knew what I had to offer, so I didn't go there," she said. The couple married 13 days after they first met.
After their wedding, Liu Xiang realized her husband was a gambling addict, even betting away their welfare payments. Liu Xiang could only raise her daughter on her meager earnings from tricycle cabbing.
At age 26, Liu Xiang gave birth to her second daughter. She had no choice but to bring her two kids to work. Her older daughter sat in her back seat while she simply tied her younger daughter to her body with a scarf.
There's Always Worse
Just as Liu Xiang's life was poised for a downward spiral, a friend who worked at the local disabled persons' federation told her that there was a training center for those with disabilities at the provincial capital of Zhengzhou that prepared students for careers as Alibaba customer service reps. You could even work from home, the friend said. Liu Xiang was skeptical but decided to check it out.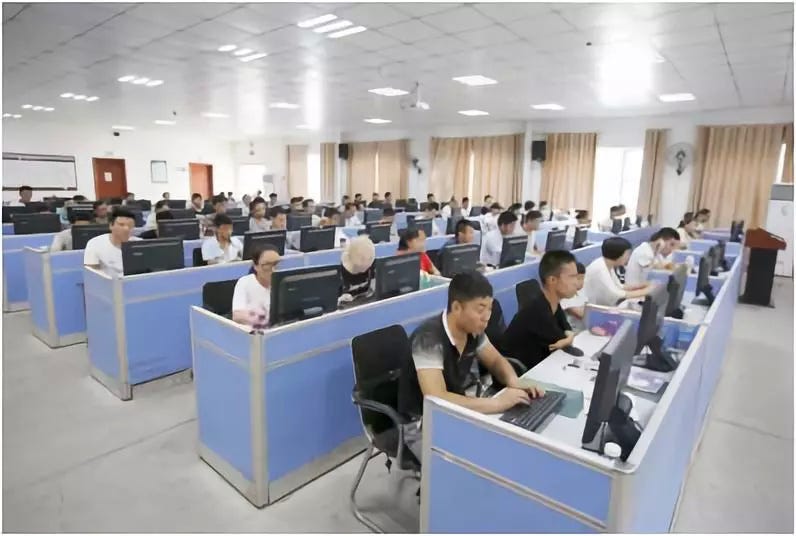 Dozens of disabled workers attend a training session for aspiring Alibaba online customer service reps at a facility in Zhengzhou's Zhongmou County. Courtesy Renwu.
Wang Shaojun, the founder of the training center, was also disabled. He was diagnosed with fibula muscular atrophy when he was 17. This is a progressive illness that gradually shuts down motor function, saying:
Last year I could still cut my fingernails. This year, I can't use my right hand to cut the fingernails on my left hand.
Wang Shaojun became a successful businessman, but there was nothing he could do about his crippling disease. He tossed and turned the night his son was born and resolved to do "something meaningful" so his son would be proud of his father when he grew up.
First, Wang Shaojun set up an online forum for the disabled. In 2008, due to his charitable efforts, he took part in the torch relay for the Beijing Olympics. In 2015, Alibaba and the disabled persons' federation in Henan set up a program that placed the disabled in online customer service positions. Wang Shaojun realized that was right up his alley, so he built a training center on a 7.2-hectare garden he owned and started offering free tuition for disabled job seekers.
The "special" customer service reps performed similar duties to regular representatives. They mainly assisted Taobao members with tasks like how to obtain refunds to how to set up an online shop. But unbeknownst to the customer, their service rep might be typing with a single finger or his or her toes. Even though that was a challenge, it was still easier and more comfortable than other types of physical labor, so the job was popular among people with disabilities.