Two Gay Chinese Dads. One Long and Winding Trip to Fatherhood
No. 39
Hello. This edition features a short excerpt from a story by Chinese journalist Zeyi Yang. It tells how two gay men from China traveled to the United States in search of a surrogate mother to start their own family. The couple — Qiguang Li and Wei Xu — now have a son.

This piece was originally published by our friends at New York-based Narratively. It has much to say about changing family values in Chinese society and specifically about same-sex parenthood. To read it in its entirety please scroll to the end of this newsletter for a link.

The coronavirus is still at the forefront of our minds and we're planning to revisit the topic in a forthcoming issue. In the meantime, this tale of determination and hope seems appropriate to launch us in to spring.

Follow us on Facebook and Twitter. Past issues are archived here. Check out our website. Thoughts, story ideas? We can be reached at editors@chinarrative.com.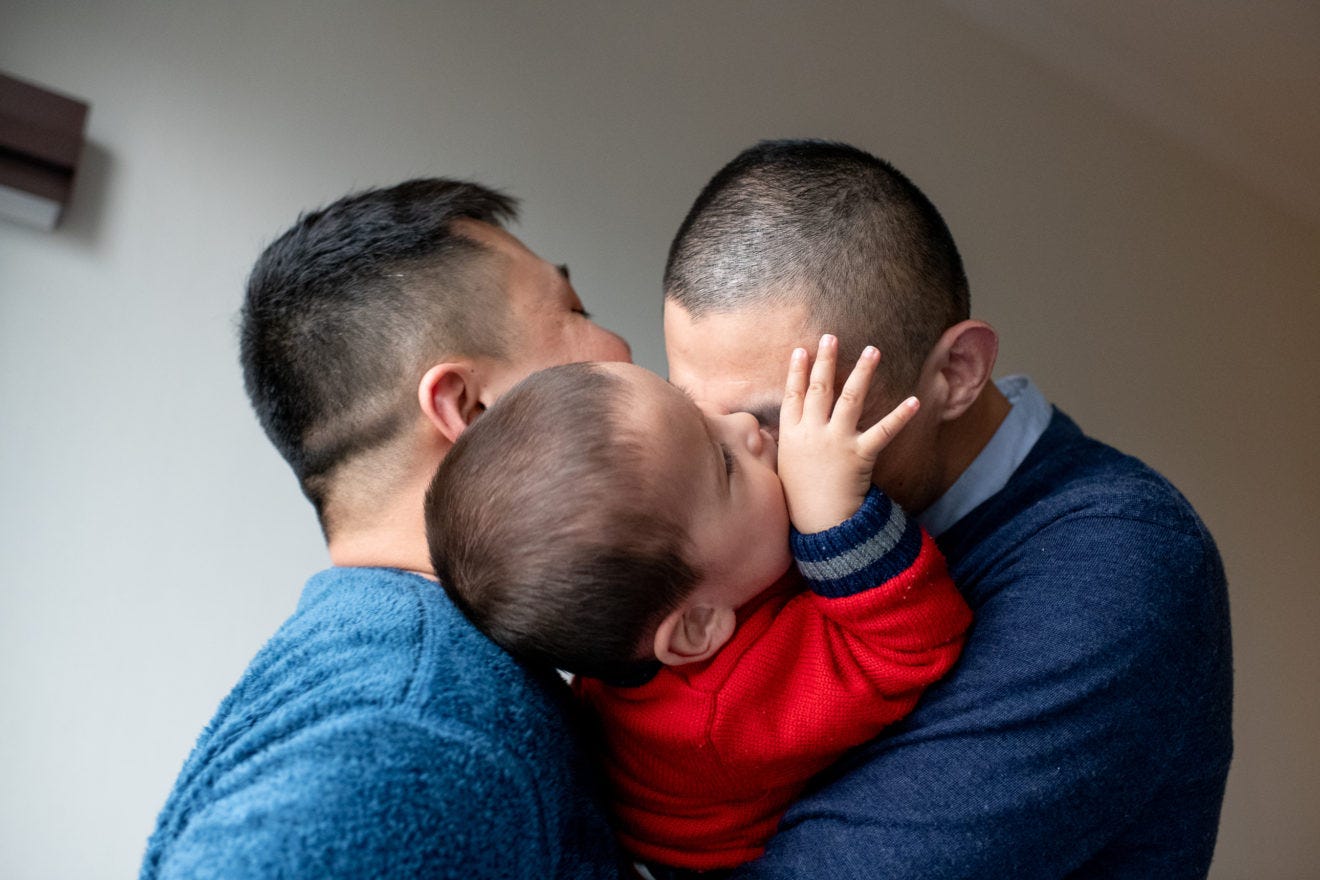 Photo: Gráinne Quinlan
Two Gay Chinese Dads. One Long and Winding Trip to Fatherhood
By Zeyi Yang

Before Qiguang Li could pass through customs and step onto U.S. soil for the first time, he faced a three-hour detention where he learned that he needed to be more candid about his identity. It was September 2015, after a long flight from Shanghai to Los Angeles. Li came with another man, Wei Xu, who asked a U.S. Customs and Border Protection (CBP) officer whether the two of them could go through the border screening together.
"What's your relationship?" asked the officer. They said they were friends. "Then you can't."
So, Xu went first and passed the screening. He forgot one important thing though: Li's travel documents were in Xu's bag. Li, 37 at the time, spoke poorer English and couldn't properly explain to the officer what had happened. After a while of anxious waiting, Xu returned to the checkpoint to look for Li, still unaware of his mistake, and they were both sent to a room for additional screening.
In the secondary screening room — commonly referred to by Chinese travelers as the "small dark room" — Xu and Li waited almost three hours, believing that they would be denied entry. An officer asked them why one's documents were in the hands of the other. Xu kept explaining that they were very close friends, until at one point the officer asked, "Are you two partners?"
"Yes," Xu admitted.
And then everything changed. Xu learned that if they had said they were partners from the beginning, they would have been allowed to go through border control together, avoiding all the drama. "But we felt kind of ashamed to say that," he recalls.
The unexpected incident was the prelude to a carefully planned trip into another country where their sexuality was much more accepted than at home. There were a few other things they didn't mention to the CBP officers. Li and Xu, a gay couple who have been together since 2007, would walk out of the airport, get married two days later in Los Angeles, and, more important, start their journey toward parenthood.
From 2015 to 2018, Li and Xu made four transpacific trips as part of their gestational surrogacy processes. They traveled nearly 50,000 miles, spent more than $200,000, and went through countless days of distress, all to fulfill the dream of having their own family.
An increasing number of Chinese gay men, like Li and Xu, are traveling thousands of miles and spending hundreds of thousands of dollars to pursue a dream that is impossible at home. Like Li and Xu, many of them refer to their surrogacy process as their "journey."
Xu and Li met in Shanghai on Nov. 15, 2007. They both grew up in rural China before moving to big cities. They'd chatted online and had a few phone calls, but when they met in person, it was love at first sight. By 2014 they owned two properties together and had just started a small business, a dry cleaners in Shanghai. Because gay couples are not allowed to marry or adopt in China, they started thinking about surrogacy. Li was 36; Xu had just turned 30.


Photo: Gráinne Quinlan. Left, Xu hugs his son, Diego, at their apartment in China, 2019. Right, Xu and Li read to their son.
For this story, I spoke to a dozen gay Chinese men who have begun or completed surrogacy in the United States. Almost all of them started considering it between the ages of 30 and 40, and they often discussed how one needs to be extremely devoted to the idea of having his own child before embarking on the lengthy and often excruciating surrogacy journey. But they also often mentioned mianzi, the nuanced Chinese concept that literally translates to "face" but also means social standing and dignity. Li says that for many gay men, the strong push for babies comes from the elder generation.
The social and cultural norm in China, inherited from thousands of years of patriarchal traditions, is that having a descendant of your own blood is necessary for a good life. Although this idea is under fierce attacks from some in China's younger generation, it still resonates with many young Chinese people, including some gay men who are asked, or volunteer, to have a child to protect the mianzi of their parents and themselves.
For some of the parents, that means going as far as pushing their sons into the surrogacy journey. David Wang, a single, gay man of 28, living in the southwestern province of Sichuan, says it took years for his parents to accept his sexuality after he came out in 2013. But once they had, his parents offered to pay for all of the expenses of surrogacy — if he would start as soon as possible.
"My parents' main argument was that they don't want me to end up aging alone," says Wang, who was single and hesitant at the time. He eventually conceded to his parents' wishes and made it through the bumpy surrogacy journey as a single father. In February 2019, Wang and his mother flew to Atlanta to be at the birth of his son and take him back home.

Dr. Guy Ringler, a physician with California Fertility Partners, tours in China to give medical consultations about surrogacy. His patients include one of the country's most influential gay figures, Ma Baoli, founder of the world's biggest gay dating app, Blued.

"I have several patients who told me that they came out to their parents after their baby was born," says Dr. Ringler, who is a gay dad through surrogacy himself. "And they said that it was so much easier because the parents don't care anymore. Because they have grandchildren, it's not that big of a deal anymore."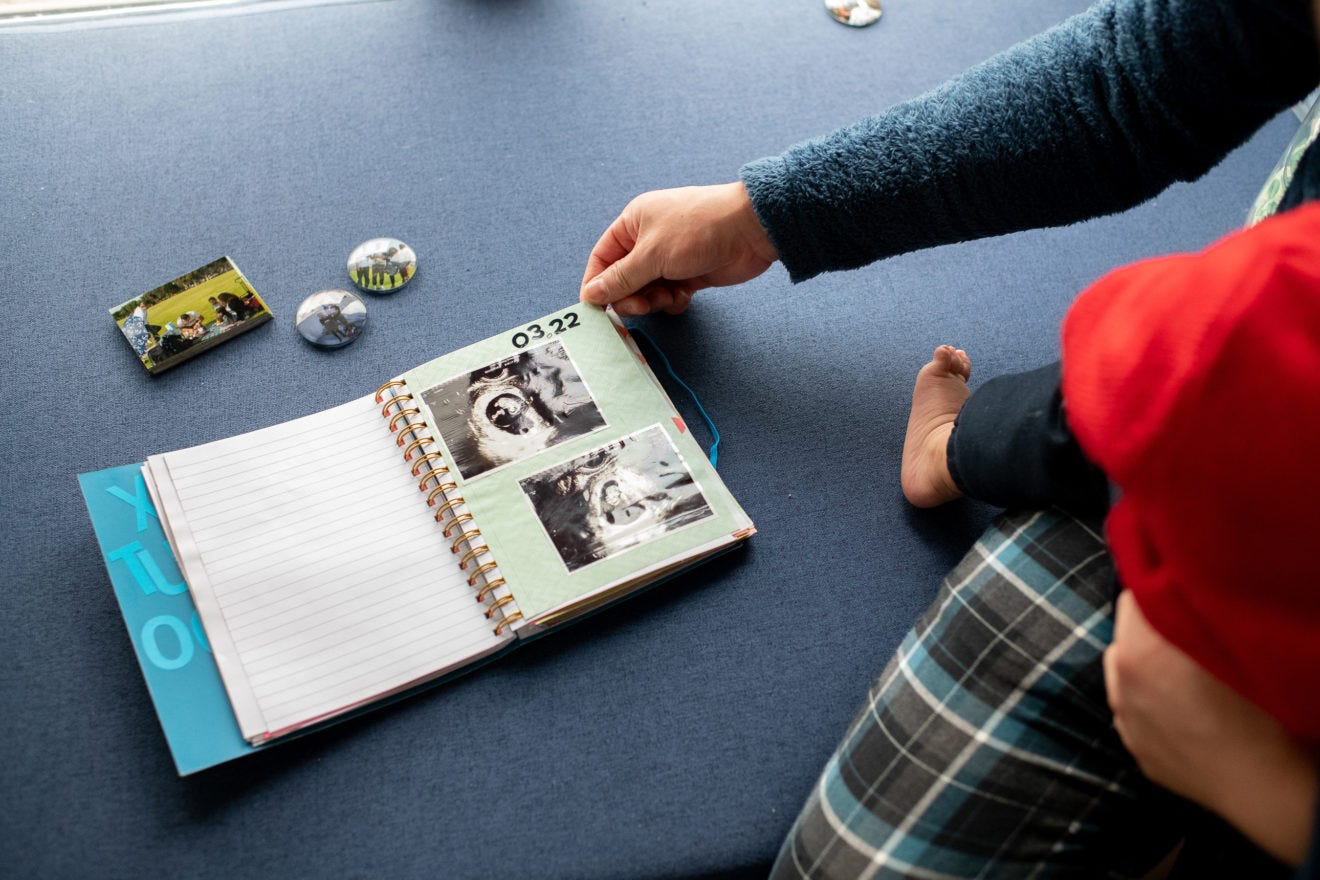 Photo: Gráinne Quinlan. Ultrasound images of Xu and Li's baby, 2018.
Xu and Li were in a similar situation. Li has a brother, which significantly eased his pressure from the family; Xu doesn't, so they made the decision that their first child would be Xu's biological son.
Xu didn't come out to his parents until midway through the surrogacy process, when, after two trips to the United States, he felt unable to conceal it anymore. It was a smooth coming out. The parents soon joined the excitement over a prospective baby. The couple's decision to have a child became the tie between two generations.

To continue reading, please click here.

Edited by: Brendan Spiegel