Diary of a 63-Year-Old Transvestite
No. 28
Hello!
Liu Peilin got his first white dress from a trash can. Since then, flowery berets, thick makeup and flamboyant attire have become his trademark.
In this issue of Chinarrative, we bring a selection of diary entries of the sixtysomething transvestite, scavenger, and internet celebrity Liu, who is also known as Daxi.
The story, which first appeared in a publication of Beijing Youth Daily, is translated here with permission. The English version has been edited for brevity and clarity.
Perhaps more than other stories we've shared in recent months, this story needs a bit of background explanation.
Financially strapped Liu from Qingdao, a coastal city in the eastern Chinese province of Shandong, appears to have attracted attention online when a campaign to raise funds for him, spearheaded by prominent artist Tang Guanhua, began to gain traction.
The goal was to raise around 30,000 yuan (or about $4,400). In the end, supporters raised more than 10 times that amount.
The proceeds were earmarked for paying for a hernia operation that Liu needed, and also to help him with living expenses and to go toward publishing an account of Liu's life.
Liu has since started a foundation to help others who are facing similar experiences and to help build greater awareness of LGBT issues.
Tang also invited Liu to relocate to Another Land ecovillage in Fuzhou, in China's eastern Fujian province. The artist and his wife are long-time promoters of sustainable living in China. The diary entries touch on Liu's move from Shandong to Fujian, and the challenges it entailed.
Note, all Chinese materials refer to Liu as "he" or "him." It's unclear what's Liu's preferred gender pronoun.
With that background in mind, let's begin Liu's story which, in addition to shedding light on gender and identity in today's China, looks at the challenges of starting over.
New to Chinarrative? Subscribe here. The beta version of our website is here. Follow us on Facebook and Twitter. Thoughts, story ideas? We can be reached at editors@chinarrative.com.
Until next time!
---
Diary of 63-Year-Old Transvestite Liu Peilin
By Liu Peilin
Not long ago, Daxi's Dream of Womanhood was posted online. A few excerpts from Liu Peilin's diary were used in the article. Liu is already something of a celebrity, but the response to this post was overwhelming. We decided to publish more, giving us more of a glimpse into Liu's inner world.
Saying that Liu is a diarist sells him short; for him, writing is as essential as eating and drinking. Before dawn, during a lazy stretch after lunch, after a difficult encounter, Liu's first recourse is get out the pen and notebook and write down his reflections.
In real life, Liu has trouble dealing with people. Their cold looks and comments hurt him. In the mental sanctuary of the diary, everything can be taken bravely. Liu takes an observer's stance. One step removed from reality, emotions can be controlled. Keeping a diary is a means for him to express his pride, self-confidence, and humor, and as a way of recording a journey toward self-respect.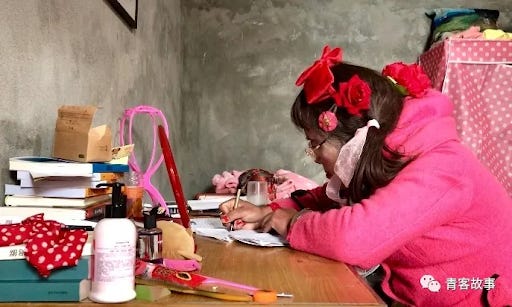 Courtesy Beijing Youth Daily.
For Liu, becoming a woman has been a longtime dream. From a life as a half-basement scavenger to an online celebrity in the hills of Qingdao, Liu has lived a transient life. It may not be that much of an exaggeration to say that without the writing, he couldn't go on. With permission, we are reproducing some of the diary entries here about Liu's move from Qingdao to Fuzhou. This isn't the celebrity version of Liu Peiling. This is real.
Sunday, Feb. 24, Qingdao
I was showing some friends from Beijing around Qingdao. Because they hadn't been to the coast yet, we went there. The taxi driver pointed out major construction on the site of my old home, muttering to himself, "It takes all sorts these days."
It was packed on the pier, but I could make out a few familiar faces in the crowd. I really didn't want any trouble, so I decided to keep quiet and not say hello. I worried they'd come out with the usual unkind words, and I wasn't in the mood.
I was all dressed up and wearing makeup, and we were just looking at the stalls. I couldn't help feeling disappointed that I wasn't one of the girls around me, picking up glittery jewelry and imagining myself wearing it. I suppose I am still just masquerading as one.
With all these eyes on me, I wanted the earth to swallow me up. Then I was recognized by one of the stall owners. I said hello, but he just replied, "What have you done this time? How about not wearing this stuff next time?"
I squinted, smiling, and said "What's wrong with it?"
He said:
It's not okay. Men should look like men.
I said, "I don't agree. I think it looks great—beautiful." I didn't wait for him to reply, but just strode off as fast as I could.
Monday, Feb. 25, Qingdao
They've left, the girls. In the short time they were here, I feel I came to know deeply what it means to be a woman: the grace with which they carry themselves, even without makeup. Around them, I felt like a clown. There's no other way to describe it.
With the girls, I returned to an age of childlike innocence. With the boundless sea in front of me and surrounded by innocent beachcombers, I had a million thoughts. The girls had looked after me, and for once I felt truly loved. I wanted to hug them, but didn't want to break the warm and peaceful atmosphere. The seagulls circled us. The girls' skirts flapped in the wind. I knew they'd support me in case I fell. It was a feeling as sweet as honey.
In the park, kids walk past in pairs, embracing—I want this. I may be older and know that fate has its limits, but I also know I can change my reality with help.
Tuesday, Feb. 26, Qingdao
Today is really busy. I will meet with two reporters. What I want to say is: 1) We need to get rid of discrimination, and treat people equally. 2) Find a situation that suits you, where you feel comfortable.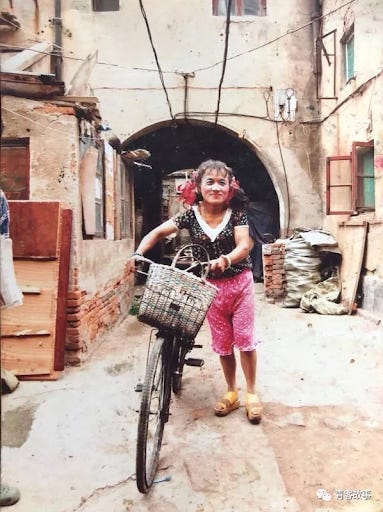 Courtesy Beijing Youth Daily.
Packing to leave, I go down the mountain to buy strong woven bags and some tape. It's hard to throw away the state-provided oil and rice. But I'm focused on the books and diaries. I've gone through my clothes again and again, sifting through everything. I just have to get on with it! But it makes me sad. I have to remind myself it's not a wartime evacuation. Just a regular house move. Some of my notebooks are damp and going moldy.
Wednesday, Feb. 27, Qingdao
I have to fly on March 1 but I have never been on a plane before. I'm not sure if I will come back. It makes me very nervous. All this drifting; fate is no joke to me.
This morning, at eight o'clock, I fixed up my makeup and took the bus to the square. At 8:30 a.m., I got on tram No. 5.
After swiping my bus card, I saw a woman smiling at me. "Are you Daxi?"
I nodded.
"Hi," she said. "I've wanted to meet you for ages. How strange to see you here. Is everything OK with you?"
"Thank you, I'm OK," I smiled.
"Are you retired?" she asked.
"A while now. Four years," I said.
"Do you have enough money?" she asked.
"Yes, thanks. I make do," I said.
I sat down in an empty seat next to her and we didn't talk anymore.
I got off the bus at Siliu South Road. When I saw Old Dong at his kiosk, I handed him two bags of rice. He tried to refuse them, but after listening to my reasons he said he was happy to accept them.
I went to see Xiaoyu and thanked her for everything she's done for me. I tried to say no but couldn't stop her from giving me two bags of dumplings.
Thursday, Feb. 28, Qingdao
These past few days, I've become an online celebrity again. The internet is blowing up over my crowdfunding appeal. (Liu Peilin's crowdfunding campaign brought in 300,000 yuan.) There was a time I thought I was finished. No one knew who I was. But now so many people know me and care about me! I feel really lucky.
Today is my last day in Qingdao. I'm scared to go to a strange place, but it will be good to breathe fresh air, and get a change of scenery.
And this attention has led to people asking me for money. Xiao You called to say that she'd won a prize and needed money to support her endeavors. How much? 30,000 to 50,000 yuan! I didn't want to offend her by saying no, but just at that moment Gold walked in and said, "You see. This is why it's time to get out of here."
Tonight I'm lodging at a little place behind Shandong Road.
Friday, March 1, Qingdao to Fuzhou
I couldn't sleep all night, with the cars outside and the sound of my cat begging for attention and the memory of my landlord's fierce wife screeching. At 5 a.m. I got up and put on my makeup. Before I knew it, it was 6 a.m. I put on much less makeup than I did yesterday. As I swished the powder across my face, I thought, "This is the real me."
I charged my phone and my razor, and got ready to depart for Fuzhou. Just a two-and-a-half hour journey, but a million miles away. Up to now, the farthest I've ever been was the barracks in the countryside. That was far, but not as far. And I was still a kid then—I didn't know anything of the world, its joys, its difficulties. Somehow I've gotten from there to now, and I'm feeling old. It's tough. But I can overcome this feeling! Just got to be stronger.
I am getting on a plane for the first time—and in women's clothes. So of course I'm pretty nervous. Rongrong encouraged me all the way, explaining the airport procedures to me. At the security gate, the male officer took my ID, and said, "You, in this outfit, I'm afraid it's …"
Quick as a flash I said, "I also have a retirement card."
He hesitated for a few more seconds, then stamped the form in front of him. I passed. At baggage check, they confiscated my nail polish. At the body search, a female security guard checked me over, and all was fine. Done! I breathed a sigh of relief.
As I sat in the plane, I laughed to myself, "I'm going up there to find Chang'e, the moon fairy!"
Zhongguancun, Minhou County, Fuzhou City, Fujian province—such a long name. At first it was hard to remember. But I might live there for a long time, so I'd better get used to it. Quite lost in thought.
Saturday, March 2, Fuzhou
I woke up in the dark, and fumbled to turn on the light. Broken, it kept flashing. I went out into the corridor, switched on another light and looked at my watch: 4.45 a.m. Preparing to write my diary, I upturned a bin and the sound clattered through the building.
In the morning, we went to Fuzhou's biggest hospital for a checkup. It turns out my illness isn't too serious, so we can wait till Monday to decide how to cure it: hospitalization or regular treatment.
Then we went out to Hou Nanjie, a busy shopping street, where I bumped into some curious girls who asked how I was. I wasn't really prepared but briefly answered their questions anyway. We stayed there quite late, and when I got back, there were parcels waiting for me. There's been too much for me to take on the plane. People are so generous.
Sunday, March 3, Fuzhou
I was so moved when I opened the parcel. Inside was my favorite book, The Complete Works of Lu Xun. I recently rediscovered Ba Jin's Family, another great book. I'm so grateful for people sending me these things. Their support and love have given me all my courage.
I don't have any special talents. Wanting to be a woman is just in my character. I may not be young, but I've got a young soul. I'm willing to keep going.
Yesterday, I saw a disabled couple with a child on the street. They were burnt and disfigured. I wanted to help them, but even without wearing makeup, in almost my natural face, I thought maybe I'd scare them. So I walked past.
Monday, March 4, Fuzhou
This is my fourth day in Fuzhou.
Yesterday a reporter said: "There are online rumors that you've committed suicide."
I said: "Nonsense! I am a very positive person. Do optimistic people commit suicide?" This is such a boring topic.
Today we go to Xiayuan Road, a quieter part of town. But even here I feel watched. Why are we here? Because of the Foundation. Guanhua leads me in to meet everyone. They are all so positive. We sat around a table and the staff brings tea and snacks. They talk about the Foundation. I offer my wholehearted endorsement of the Foundation, as is expected of me. I agree we should help urgent cases first. And we agree we'll tackle the complex cases later.
We talked for a while. I was in a hurry to go to the hospital so Guanhua decided to stay and keep negotiating about how the Foundation would be run. I went to hospital with Gold, and it turned out I needed a blood test. While we were doing this, Guanhua transferred 300,000 yuan to my account. That night, lying in bed, I felt like I was flying. My heart has been completely numb for so long. Now I am alive again!
Tuesday, March 5, Fuzhou
Dada, an online friend from Beijing, went home today. I don't want to say goodbye, like an old man with his children. Parting is hard, but her visit gave me strength. A few days with her and the others have given me new depths of understanding.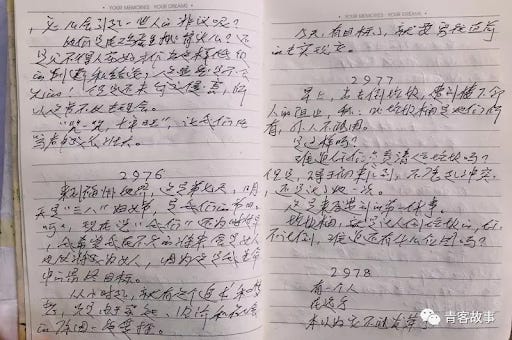 Courtesy Beijing Youth Daily.

Wednesday, March 6, Fuzhou
I had a chest examination today, and was asked to remove my top and stand in my bra before a male physician. It made me uncomfortable, but I was willing to do this for the doctor. Then I was asked to take off my skirt for the electrocardiogram. The young female doctor made no comment and didn't laugh. She just squinted and got on with the job, clipping wires onto my body.
Thursday, March 7, Fuzhou
Yesterday, I wrote a declaration about the 300,000 yuan donation. Nobody forced me to—I thought it was the right thing to do. It's been posted online.
I don't have access to the internet or a connected device, but I plan to listen, observe, comment, redress wrongs, and form my own conclusions.
Tomorrow is Women's Day, our day. Saying it's our day may be a little premature. But I hope it will soon be the case that I too am a woman. It is, after all, my main goal in life.
"Are you afraid of dying?" Sometimes people ask me this. But no one can avoid death. Youth is not an eternal law. Plenty of people are alive but not cherishing every moment. And they think when they die that the soul stops and everything else stops. I hope that when I die, I don't suffer. In autumn, trees lose their branches, and when the new branches sprout, hope returns.
I never thought I'd be living with cats again, but here is a female cat following me around. I lost my way yesterday. Ah, being old and forgetful. I keep thinking that there will be something to eat and drink. I'll never be completely without again.
Friday, March 8, Fuzhou
As long as I can remember, I've known this date. International Women's Day, but not for the likes of me. It's a day for women. Today I dress up really nicely. I don't know why. I guess I'm just a lover of pretty things. I'm wearing my red half-length dress to match my favorite green flowery top. I put on my velvet coat and take a long look in the mirror, humming to myself.
It's so rainy here. When will it ever stop raining? For eight days, I've lived in this village in the south. Eight days! I am not used to life here. It's better at home, where going out is more fun. Everything here is outside of my control and makes me confused. I've lost sight of the point of all this. The mother cat is guarding her kittens. Women's Day.
Sounds on the street—footsteps this time. I get a few text messages, wishing me a happy holiday! People stare more here. They are talking about me, pointing to me and speaking in their own incomprehensible language.
Saturday, March 9, Fuzhou
In the coming days, I'll need all my resilience. I must not get lazy. Although all this support has come in on social media, I have to do something myself to fill my mind. Happiness is not shouted out, but created.
I'm 63, in my sunset years. But what can I do? All I can do is write. Others just eat and drink all day, nod their heads, get sick. That's no life. But me, I've been given a new life by my friends online. Their charity and gifts have lifted my heart. It's a new beginning. As we say in China, it "adds oil."
For a long time, all the hurdles I encountered were met with, "Don't think it, don't do it." I kept my head down. For me, "positive energy" is a useless term. You just have to respect yourself, that's all.
Rachel Zhang and Lilly Chow contributed to this issue.
Editors: Liu Mi, Song Jianhua
Translator: Heather Mowbray