Chinese Teacher for Deaf Builds World Cup Squad, Part 1
No. 31
Dear Friends of Chinarrative:

We bring you the first in a two-part series about a soccer team for the deaf in the southern Chinese province of Guangdong. In this longread, which first appeared in online platform Truman Story, we learn how the team got its start and meet its members and coach, Zheng Guodong. It's a tale of perseverance against the odds that leads to World Cup fame for this motley crew of Chinese youngsters with disabilities. The movie rights to this gripping story have been sold and a script is in the works. Look out for the second part in the next issue of Chinarrative.

We'd like to thank you for your continued support over the recent months. We will settle back to a more regular schedule over the winter. You can check out our full range of stories and support us at our website, Chinarrative.com.

New to Chinarrative? Subscribe below.
Follow us on Facebook and Twitter. Past issues can be found here. Thoughts, story ideas? We can be reached at editors@chinarrative.com.
---
The Chinese Teacher for the Deaf Who Built a World Cup Squad, Part 1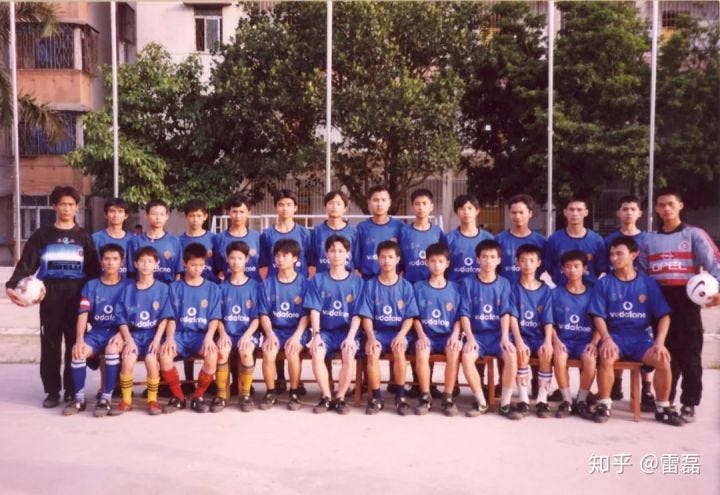 Official portrait for Zhanjiang Special Education School's inaugural soccer team. Courtesy author.
By Yao Lu
1.
In the fall of 2017, I was invited by a friend to attend a special soccer match.
The weather was decent that day. The entire pitch was bathed in warm sunlight. It was also one of those rare Beijing days with clear skies and full visibility. The two sides battled fiercely. I could see clearly the bulging calves of the players and their gnarly expressions when they collided.
But the pitch was utterly silent, devoid of cries, bellows and the commotion of cheering crowds. It felt like watching a film with the sound switched off.
To be precise, it was a silent movie with some background noise—the swirl of the wind that trailed players on the move, the unimpressive thump of the soccer ball landing on the grass and the sound of violent panting.
Coach Zheng Guodong directed his offense from the sidelines, also in silence. He and his players shared a secret language. He initiated offensive and defensive strategy with mere hand gestures or blinks of the eye. That was it. An eerie quiet loomed over the stadium.
I nearly cried. This was my first soccer match between deaf players. Every single player on the pitch was deaf and mute.
Zheng Guodong has been at the helm of this team for 16 years now. He can speak just fine. In fact, he's an able-bodied person with a very loud voice.
About 16 years ago, the Chinese national team qualified for the soccer World Cup for the first time. Soccer fever took over the country. Zheng Guodong's soccer team for the deaf was born amid the fervor.
Zhanjiang Special Education School is in the city by the same name on Leizhou Peninsula, at the southern tip of the Chinese mainland. Back then, the student dorm was home to a 25-inch television. The students attached a long extension cord to the TV set and scrambled to move it onto one of the ping pong tables situated outdoors. A group of boys surrounded the TV. Even though they couldn't hear, they made muffled cheers during tense moments in a match.
Zheng Guodong was a Chinese teacher at the time. After graduating from university with a degree in Chinese, he took over his mother's position at the school.
He wasn't very tall but boasted a sturdy build and big and round eyes. His favorite pastime was basketball. The school didn't have a soccer pitch and he didn't take much of an interest in soccer either.
He has just turned 22 and was brimming with passion. Having chosen to teach at a special education school instead of a regular school—where teachers would be closely evaluated based on student test performance—his workload was quite light.
Zheng Guodong was a temp paid 490 yuan (roughly $70 under current exchange rates). You could easily make 2,000 or 3,000 yuan a month as a factory worker in Shenzhen at the time. His girlfriend of four years didn't see a future in a small city like Zhanjiang and left for Shenzhen, thus commencing a long-distance relationship.
Three types of students attended the Zhanjiang Special Education School—those suffering from hearing, visual or mental impairment.
The mentally handicapped students didn't fare well academically regardless of teacher effort. The blind students typically went into the massage industry while the deaf students picked up a craft like artistic sculpturing and were fed into assembly lines.
But in reality, deaf and mute workers were difficult to integrate into society. They never lasted long in their factory jobs, quitting for this reason or that. It was common for them to enter a life of crime in unemployment and engage in theft or robbery.
Zheng Guodong noticed a pattern after the World Cup fever had passed. Boys would linger on the fringes of the basketball court on campus and start kicking random objects, some barefoot and others dragging their flip-flops.
The items they kicked included scrunched up balls of paper, empty soda cans and deflated balls. They kicked whatever was available or lying around.
After the school year started in the fall of 2002, frustrated by his long-distance relationship, Zheng Guodong decided to something about the burgeoning interest in soccer.
He spent 25 yuan on a store's leftover inventory of soccer balls and took over an empty dirt plot by the school with a group of his handicapped students, who only had grim futures to look forward to.
Perhaps Zheng Guodong never would have imagined at the time that a few years later he would build a team out of them that would qualify for the soccer World Cup for the deaf.
2.
A key member of the team, Chen Zhenhua, was a well-known troublemaker, a rich kid and a champion sprinter. He always managed to jostle his way to the best position in front of the TV during World Cup live broadcasts.
Chen Zhenhua was born into a wealthy family in the port city of Wushizhen. Armed with a sharp business acumen, his father Chen Heping went into shipping after China implemented capitalist-style economic reforms after 1978 and built a substantial fortune.
At age 4, Chen Zhenhua lost his hearing after being injected with antibiotics when suffering from a high fever.
Son in tow, Chen Heping traveled the country to seek a cure, leaving no stone unturned. He followed up on every lead—be it a prominent doctor mentioned in a newspaper or a referral from a hospital—to no avail.
He still remembers the time he was beaten up in Beijing by purported government officers while en route to the northeastern province of Heilongjiang.
The cruel twist of fate planted in Chen Zhenhua the seeds of infinite anger. He was brash and bossy. When a fellow student also from Wushizhen was bullied by an older student, he charged at the latter without hesitation. His opponent was much taller but ended up getting the bridge of his nose fractured.
Chen Heping had to pay out 6,000 yuan in compensation—and this was back in 1997. In the next few years, he became a fixture at the special education school, showing up more or less monthly with cash payments for victims of his son's aggression.
Chen Zhenhua was a strong boy, the perennial champion of the 100-meter dash at school meets. He was always designated the final sprinter in the 4 x 100-meter relay.
Now he was obsessed with soccer. Zheng Guodong had heard the rumors about Chen Zhenhua, but he didn't care. In fact, the kids who were most enthusiastic about soccer were the school's biggest troublemakers.
They were bold, restless and not afraid of physical contact. These rascals always snuck off campus and stirred up trouble when they caught the security guards unawares. Now they didn't have to. They could play soccer instead.
The rolling leather balls soon became the focal point of student attention. It struck Zheng Guodong that he could organize an intra-school soccer tournament. That December he petitioned the school to stage a tournament he nicknamed "Candelight Cup."
Zheng Guodong was a talented artist from his love of comics as a kid. He hand-drew the posters for the tournament and set the schedule.
Each grade drafted their strongest students for their teams and their classmates served as cheerleaders. Spectators waved signs that said "invincible" and "come on," while others fluttered miniature flags. Most were Chinese national flags, but the Brazilian flag was a common sight too.
Zheng Guodong felt quite emotional. His mother was one of the special education school's first teachers. He grew up on campus. As a secondary school student, he often played cards with his mother's students.
He knew how temperamental the deaf could be. They were prone to anxiety and outbursts and often felt insecure because they couldn't hear. Some students also liked to steal.
But as they spent more time on the soccer pitch, Zheng Guodong felt he started to get through to these stubborn young men who often lived in their heads. When Chen Zhenhua didn't get along with a teammate and the two refused to pass each other, Zheng Guodong stepped in to mediate.
Some students didn't understand the concept of theft. They felt they were just taking stuff. Zheng Guodong staged relevant skits and cast the students in them, so they could understand the moral principles involved.
As for the most persistent repeat offenders, the most effective punishment was to ban them from playing soccer. It sent quite the clear message.
During that year's tournament, fifth-year student Li Haiyang scored from beyond the halfway line with a powerful kick. The young man nicknamed "Darkie" by his own family caught Zheng Guodong's eye and was drafted into his team. Li Haiyang quickly became a core member of the squad.
After the tournament, Zheng Guodong decided to find a permanent home for his team. He asked for permission to set up a soccer club. The principal at the time felt soccer was a healthy pursuit. The soccer club was formally established on May 20, 2003 and set up shop in a student dorm room.
Zheng Guodong and the boys were ecstatic. They decorated the modest room enthusiastically, plastering the walls with the posters of assorted soccer stars and different national flags. They also installed a TV and the room became the official venue for watching live broadcasts of key matches.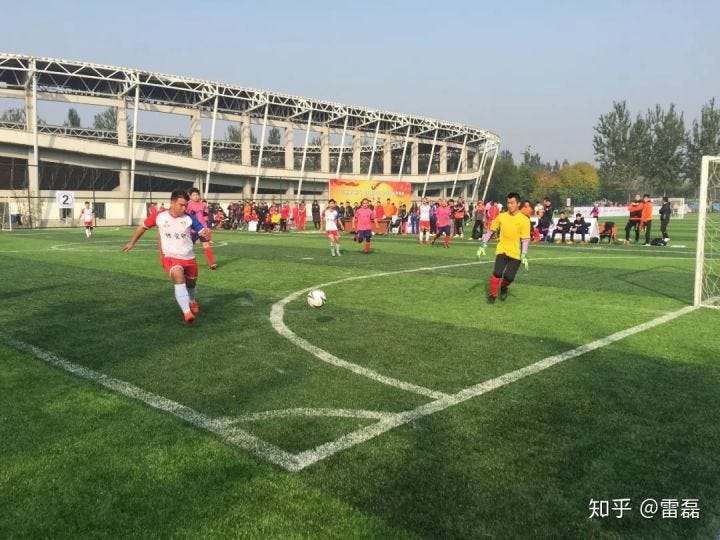 Courtesy Truman Story.
3.
In December 2003, the Guangdong city of Jiangmen played host to China's first national soccer tournament for people with disabilities. The Zhanjiang Disabled Persons' Federation got word of the soccer team at the local special education school and decided to enter it in the contest.
Zheng Guodong and members of the soccer club were thrilled. Before that, they didn't even realize that soccer for the deaf existed as an official competition event. They put together a new team and started to train more professionally.
A 14-man roster was finalized, comprising:
Chen Zhenhua, forward, a big-match player known for his guts and explosiveness, nicknamed "Beast;"
Li Haiyang, defender, a steady presence with a complete skill set, nicknamed "Hippo;"
Fang Chunwei, fullback, a loner known for his brutality on the field—"If you try to pass him once, you won't try again"—nicknamed "Wolfhound;"
Zheng Dayang, goalkeeper, a dull personality but fearless on the pitch, dives for every single ball;
Guo Yeli, forward, short but speedy and highly strategic;
Xie Xiangcong, midfielder, slender and fragile but endowed with natural talent and passable skills;
Zhan Zhuolun, midfielder, enjoyed respect because of his older age, lacked grace but effective player;
Tang Feiting, winger, disciplined, textbook moves and volatile personality;
Lin Tian, substitute defender, a hard worker but modest IQ, struggled to master certain moves, a joker, nicknamed "Big Crazy;"
Li Guozhi, substitute defender, a sneaky player who improved quickly;
Chen Haiguo, defender, wooden personality who went all out;
Feng Jie, goalkeeper, an introvert who trained hard;
Tan Qianda, midfielder, boasted pretty moves, worshiped Zinedine Zidane, nicknamed "Uncle Da"
Members of the team started running around their dirt pitch at 6:30 a.m., when the morning dew still lingered on leaves.
Training continued after classes wrapped up in the afternoon. These sessions took on a completely different tone to the playful nature of earlier practices. Everyone fantasized about and looked forward to the tournament. For the first time in their lives, the players were driven by a concrete and mesmerizing ambition.
Chen Zhenhua was named the team's first captain. The entire team was made up of students who were considered typical troublemakers, Zheng Guodong recalled. They cut class, fought, stole—every type of bad behavior you could think of. And they only looked out for their own interests, answering to no one. Only the bully of bullies could keep them in check.
Chen Zhenhua's leadership style was straightforward—physical punishment. Once one of the goalkeepers was pursued by Chen Zhenhua so aggressively he ended up going home.
That infuriated Zheng Guodong. Whenever Chen Zhenhua beat up his teammates, Zheng Guodong would slap him in the face. Chen Zhenhua didn't dare respond in kind, instead staring at his coach with utter fury. "Why?" was written all over his face.
Zheng Guodong asked him in sign language why he struck someone in the first place.
"I asked him to come see me again after thinking things over. When he showed up, I apologized to him first because hitting someone is wrong. Then I tried to figure out what happened leading up to his attack and point him in the right direction."
Zheng Guodong came up with a way of managing his players. It was difficult to mediate between his players after a fight because sign language had its limitations. Instead, he looked up instructional stories and had his players act them out in skits.
"For example, when you run into someone accidentally, you should apologize and make way, not shove the person right away." Whenever he had time he'd try to get his players to open up, cramming on sign language in the process.
After going through the routine a few times, Chen Zhenhua learned his lesson. Even when he felt disgruntled, he would air matters with his coach first.
Later on, when a player couldn't stomach Zheng Guodong's criticism and confronted him, he was held back by his teammates. After calming down, the player apologized to Zheng Guodong on his own initiative.
The second captain of the team was Li Haiyang. Like Chen Zhenhua, Li Haiyang lost his hearing after receiving treatment for a high fever, in his case an IV drip. Li's mother crisscrossed Guangdong province with him in search of a cure, also to no avail. She eventually gave up because of a lack of funds.
Haiyang's mother Zhong Ligui is a gentle southern woman. She was racked with guilt over her failure to cure her son. As compensation, she sent her able-bodied younger son to live with her parents, so she could channel all her love toward Li Haiyang. To this day, her younger son doesn't call her mom.
On one occasion, when Zhong Guili took Li Haiyang to get a haircut, the barber joked, "Sister, what are you keeping this fool around for? You should abandon him." Zhong Guili was badly wounded but put on a brave face. "Don't say that. Who knows—maybe my son will be more accomplished than you are," she retorted.
Back at home, she secretly broke down in tears. The comment still stings today. A poor family can only offer her son so little, she still thinks.
Li Haiyang has been competitive and intellectually curious since he was a kid.
When he was 6 and received 100 yuan in pocket money from his uncle, he scrambled to buy a Subor console—a locally made, PC-like device for children—and asked his sister to teach him how to spell "Li Haiyang" on it. When he learned how to do it, he proudly gave his mother a demonstration.
The expensive purchase made Zhong Ligui uneasy, but what pained her more was her son's unfulfilled desire for personal expression. "He always wanted to express himself but didn't have the opportunity to do so."
Li Haiyang's transformation was astounding after joining the soccer team. Every time his mother visited, he couldn't contain his delight when sharing his progress and action on the pitch in detail. And he no longer resented communicating with others.
Zhong Guili is illiterate and doesn't know how to sign. All she can do is roughly read her son's lips. Worried about potential injuries to her son, she sat through the two-hour car ride to visit Li Haiyang at school one weekend.
A training session was under way. Li Haiyang nearly stumbled on the dirt pitch several times, which gave her some major jitters.
Zhong Guili observed from the sidelines for some time. In the end, she resolved to back her son's soccer career. She dug out her son's old dictionary and started learning to read and write from scratch, so that the two of them could communicate in more depth. Now mother and son are able to exchange WeChat messages.
Soccer coaching was a second career for Zheng Guodong, who was hardly proficient in the sport. He relied on DVDs and books to provide proper instruction to his players.
A dirt patch in the school yard was transformed into a five-a-side soccer pitch after a few lines were drawn. Zheng Guodong split his players into several groups and taught them the basics of passing and getting into position individually.
He soon realized that because his players couldn't hear and couldn't understand his sign language, they improvised once they hit the pitch and it was utter chaos.
So he found himself a large blackboard and wrote on it the key techniques. But it was hard to convey more complex concepts in written language. The players were slow to respond. The net effect was still poor and the players were at a loss. Every practice left Zheng Guodong totally exhausted.
After a bit of brainstorming, Zheng Guodong found inspiration in the flag signals that ancient Chinese generals used in battle. He started to issue orders with small flags of various colors.
As training became more advanced, he also developed 20-plus original hand signals to convey instructions like run on the wing, brush the ball sideways, make a cut, maintain possession or not, step up defense, mount a counterattack or circumvent a single opponent with two players.
Apart from the ability to convey instructions in an accurate and timely fashion, the hardest part of coaching soccer for the deaf is teaching finesse and strategy. "I'm able to teach them how to pass and kick on goal with sign language and hand gestures, but it's impossible to capture the subtlety of generating power or good teamwork," Zheng said.
For example, it took him about a dozen sessions to teach his players how to handle the ball with the arches of their feet. I personally watched him instruct a novice player. He knelt down beside the player and asked him to hold onto his head. He then grabbed the student's foot of choice and maneuvered it step by step.
The students liked Zheng Guodong and respected his authority. After all these years, Zheng Guodong reckons that he now thinks like a deaf person.
Most people with intact hearing tend to speak and sign at the same time, but Zheng Guodong is used to signing only and using exaggerated facial expressions. After getting to know his students better, he could identify them from a distance from their seemingly indecipherable groans alone.
The players were moved by the actions of this non-professional coach. In their lives, they had probably never encountered someone who didn't think it was beneath himself to kneel by their feet.
The pretenses and formalities soon disappeared as "Teacher Zheng" became "Big Brother Zheng." When the school's soccer team for female deaf students began to take shape, the players—on their own initiative—started calling Zheng Guodong "Dad."
After a month of training, the male soccer team got word that higher ups decided to dispatch a team from the provincial capital Guangzhou to represent Guangdong at the national competition, which meant the Zhanjiang team had to back out. The players were devastated and Zheng Guodong felt powerless.
But the hiatus was brief as organizers—nudged along by lobbying from Zhanjiang—eventually allowed Guangdong to field two teams as the host province. Thus the team from Guangzhou became the first squad and the Zhanjiang team the second.
Soon December arrived and the team was due to depart. Zheng Guodong took his boys to a barber shop and they all had their heads shaved, as "a show of determination and intimidation tactic."
The players donned yellow jerseys and were heavily tanned from months of training. Coupled with their short stature—in line with average heights in Guangdong—they bore a strong resemblance to the ragtag team featured in Stephen Chow movie Shaolin Soccer, which was a hit back then.
Zheng Guodong also reminisced how he felt an inferiority complex barking orders from the sidelines wearing a casual jacket and lengthy shorts, in contrast to the coach from the traditional soccer powerhouse province of Liaoning, who cut a dashing figure in his proper track suit jacket. "I felt very unprofessional."
It was also the first time his players had stayed at a hotel and enjoyed a buffet line. One player went all out and left a tower of plates. He figured out the decorum the next day and scaled back.
Coach Jia Hongwen of the team from Jiangxi province was at the tournament that year. His first impression of Zheng Guodong's squad was that it was "unremarkable."
No one would have guessed that this unremarkable team would have stormed into the final with their fighting spirit. They made up for their small stature with the signatures of southern Chinese soccer style—"an emphasis on footwork, greater flexibility and more subtlety."
Chen Zhenhua was one of the stars of the tournament. He seemed to harbor a killer mentality all the time as he charged forward and tackled fearlessly on his way to 10 goals. He was named the contest's best scorer.
While the national soccer scene was mired in a major corruption scandal at the time, by contrast soccer for the deaf enjoyed an unadulterated clean slate.
To this day, Zheng Guodong vividly remembers the raw fashion in which his players celebrated goals after an aggressive offense. They appeared to let out "earth-shattering" cries. Even though they couldn't hear nor speak, their passion for the game became an outlet for repressed emotions.
Their aggression took a physical toll. Li Haiyang and another player, Fang Chunwei, fractured a toe and finger respectively. Yet they sucked up the extreme pain and soldiered on after receiving painkilling injections.
"The thing about the deaf is that they struggle to control their use of force," Jiang Hongwen said.
"For example, when we knock on a door we just knock gently with two fingers. We can sense that the knocks are being heard inside. But a deaf person will pound on the door relentlessly. He instinctively assumes that you can't hear because he can't hear."
"They're the same when they play soccer. When they go for the ball, they're often oblivious to the pain of the collision, even if they bleed instantly."
In the final, the Zhanjiang team faced off against Liaoning again. Their strategy was defense-oriented, while giving Chen Zhenhua free rein on the attack. In the end, they were no match for the traditional stalwarts, losing 0-1. Still, the Zhanjiang players were elated by the second-place finish in a national competition.
Jia Hongwen recalled that while the Zhanjiang squad wasn't one of the top teams in terms of technique, their never-say-die attitude was impressive.

To be continued…

Translator: Min Lee