The Stories of China's First Top Models
No. 33
Greetings from Chinarrative!

This edition features a fascinating look back at the emergence of China's first fashion models as the country opened up to the outside. The article was first published by the nonfiction platform Core Story, and captures the glamour, pain and sometimes tragedy of these ambitious young men and women as they tried to find their way in a rapidly changing China. As the authors put it:
They were drawn to ideals of beauty and freedom, but they had to shake free of the shackles of their times. Some became estranged from their families; some even paid with their lives.
Follow us on Facebook and Twitter. Past issues are archived here. Thoughts, story ideas? We can be reached at editors@chinarrative.com.
---
From Thin Air: Stories of China's First Models
The avant-garde style of the 1980s. Courtesy Core Story.

By Gao Zhe and Liu Jing
1.
Events of three decades earlier—the late 1970s and early 1980s—might seem like an eternity ago, but what if those events changed the trajectory of your entire life? What if it pulled you from years of deep silence and depression? Perhaps it wouldn't be so crazy to remember every instance—even every thought—from that day.
Gong Haibin, only 24 at the time, often hung out near the busy street of Xidan. One day, he found a crowd gathered around three foreigners. His curiosity piqued, he drew closer. But amid the jostling elbows, his lunch bag ripped apart, and six steamed buns came tumbling out.
As it turned out, a TV channel from Germany was filming a segment that day on the state of Chinese politics, though the anchorwoman, speaking in German, was unintelligible to the Chinese crowd. When Gong dropped his steamed buns, the unexpected distraction was caught on camera. "After the fall of the Gang of Four, the lives of Beijing residents are changing," the anchorwoman said.
"These big steamed buns on the ground exemplify the issue perfectly," she continued without missing a beat. The cameras panned over the steamed buns before focusing on Gong, whose embarrassment was written all over his face.
"What are you doing?" the interpreter asked him.
The Xidan residents were equally curious. They had often seen this tall, lanky young man disappearing into the alleyways and had wondered about him. He was always immaculately, colorfully dressed. His tall figure, jet-black hair, and unusually fair skin clearly indicated that he was no common worker. But his silence was strangest of all. He hardly spoke to anyone. Over time, people simply figured he was an overseas Chinese who had recently repatriated to Beijing.
A few young ladies who were smitten with him often lingered outside, waiting for him. The boldest of them would approach him and ask, "What are you doing?"
"I'm going home," he replied.
"Where do you live? Want to chat?"
"Chat about what?"
"Anything. Why—you can't talk?"
"Of course I can. There's just nothing to talk about."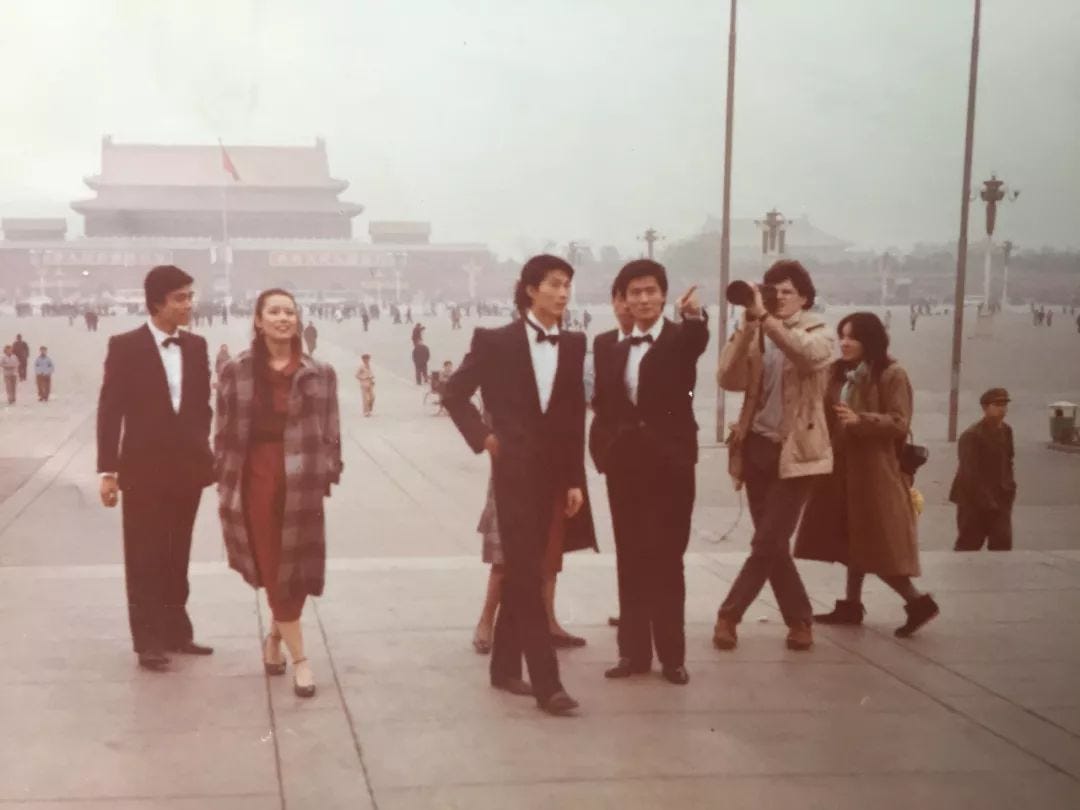 Gong Haibin, third from the right. Courtesy Core Story.
Despite all the years, Gong was still a little bitter as he looked back on his youth and the experiences that followed. "Talking to people was always a bother," he said. "They'd ask if I had just moved back, where I had come from, if I had a passport."
He and his parents had led a comfortable life, often rubbing shoulders with high-ranking officials—until misfortune befell. Unable to shake himself of his self-esteem and vanity, he never told anyone that he worked at a dye house.
The diminutive entrance of the shop led to the backyard, where a tent was sprung over four giant woks. During the summer, the temperature often reached 50 Celsius or above. Gong had worked there as an apprentice since he was 17. Given the thick steam, he wore only boots, underwear, and an apron. Even then, he had to stop every hour to empty his boots of water.
By the end of his shift, he would be so spotted with colors that he looked like a Dalmatian. But oddly enough, his skin became incredibly soft—"just like a fairy," he said. He would stay at the shop to iron his clothes, press his paints, shine his shoes, and rub gel into his hair before quietly slipping out the door. Passersby were always stunned by his sudden appearance and cleaned-up looks.
After the American TV show Man from Atlantis aired in the late 1970s, Gong saved up for three months to buy a pair of sunglasses. He wanted them to avoid eye contact, but that only led to more gossip. "There's a guy in Xidan who came from the sea," people would say. "He looks super cool, but he never talks to anyone."
Back in Xidan Square, he still had to answer the German interviewer's question. His face red, he could only answer honestly, "I'm a worker."
"Why do you have so many steamed buns?" she asked.
"It's for lunch," he replied.
"All for you?"
"I'm bringing two back for my coworker, and I was going to eat four," he lied. He had planned to eat all six.
"Four is still a lot. What about in the future? Will there be even more steamed buns?"
"Yes."
Even in his memory, this brief exchange stretched like an eternity. As the crowd turned to leave, a man suddenly shouted at him to stop. He introduced himself as Xiang Lin, a director from Emei Film Studio, and showed Gong his work ID.
He was casting for his new film Qinsi at the time and complimented Gong on his looks. He helped him retrieve the stray buns and added, "You look like an overseas Chinese. Why do you still have to bring lunch?"
In answer, Gong led Xiang Lin and the videographer through the stooped entrance of the dye house. It was so dark inside that they couldn't see their own hands. "You work here every day?" Xiang asked, incredulous. "I feel terrible for you, young man. You have potential as an actor. Stay at Emei Studio after we finish shooting this film and I'll mentor you," he told Gong. Gong started sobbing, unsure how to express his gratitude. "Excellent performance," the videographer joked.
2.
Soon after the opening up and reform period, Chinese people could openly interact with foreigners—but only in certain public spaces. Gong had started acting part-time actor at Emei Film Studio. In September 1980, he received a mysterious invitation that directed him to a conference room at the Beijing Hotel, where he found a well-dressed foreigner. Sitting next to him was a woman who looked Chinese, but her bright clothing made it hard to guess her role.
Haibin wasn't alone; there were two young actors in the room with him, Zhang Tielin and Fang Shu. The woman introduced herself as Song Huaigui. The man beside her was Pierre Cardin, a prominent French designer looking to assemble a team of Chinese models.
Her words made no sense to Gong. For years, clothing in China had been restricted to three hues: black, blue, and green. The mainstream media had long stigmatized modeling; the words "fashion model" hardly existed; and the idea of putting one's body on display was synonymous to prostitution.
Li Anding, a reporter at Xinhua News Agency, remembers attending a restricted viewing party in early 1979, open only to fashion industry officials. That was his first time seeing Pierre Cardin and the overpass that led to the spectators' seats. The show featured eight French models and four Japanese models, all outrageously dressed. As they strutted down the runway, they oozed sex appeal and casually draped their arms around each other.
One blond-haired, blue-eyed model swung her hips as she walked down the runway. Then she stopped and lifted her long skirt, revealing her panties-clad body underneath. "In that moment," Anding recalled, "nearly everyone in the audience leaned back, like they were about to be hit by a shock wave. 'Are they really naked underneath? They had nothing on top, not even a bra!'" Anding said, mimicking the spectators. "People were just stunned. The entire row practically fell over backwards."
China may have opened up in the 1980s, but it desperately needed to expand its textile exports in order to hold foreign currencies. However, its isolation from the outside world left the Chinese fashion industry clueless about contemporary trends, so they leaned heavily on Pierre Cardin and his insights.
At the same time, selecting Chinese models was still impeded by the political climate and concepts of fashion at the time. Pierre Cardin's inaugural fashion show in China was severely panned by a leftist Hong Kong newspaper, and the critique was reprinted by Chinese newspaper Reference News. Consequently, Xinhua buried Li's scheduled article on the same topic, while Cardin's subsequent shows in Shanghai faced greater obstacles.
Pierre Cardin had previously tried—and failed—to launch his business in China. Then he met Song, who was living abroad at the time, and hired her to oversee his expansion into China. Among other responsibilities, she was to gather a team of models and open a Maxim's in Beijing. Founded in the late 1800s, the world-famous French restaurant was once the preferred salon of patrons like Picasso. But when the European media heard about Cardin's plans for Beijing, they dismissively called him crazy. Even the French ambassador cautioned Cardin against "doing something stupid."
But rather than standing down, Cardin went further. He wanted to replicate Maxim's de Paris in Beijing, down to the interior decorations and the service. But a problem loomed: Beijing had no such construction materials for such a project, much less the architects.
Song had been tasked with the impossible.
Pierre Cardin on the streets of Beijing. Credit: ImagineChina.
But as it turned out, Song was just the person Cardin needed. If the job was about understanding the vagaries of Chinese politics or the ever-cautious public, then she would have faced an uphill battle. Still, in the words of Cardin, she was capable of doing anything anywhere.
As a student at the Central Academy of Fine Arts, she had fallen in love with Maryn Varbanov, a Bulgarian exchange student. When the school found out, Song was forced to declare in writing that she would end the relationship, but they continued seeing each other in secret. Forbidden to speak to each other, they devised a covert method of communication. They arranged to meet by hiding notes inside a tree, but they used Song's braid as a signal: two braids meant that they could meet; one braid meant no. Later, Song wrote to Premier Zhou Enlai and won his express approval for them to marry. Theirs became the first mixed marriage of this new China.
Then and now, people speculated wildly about Song's business dealings, such as her connections within the upper echelon of Chinese leadership. When she studied oil painting at the Central Academy of Fine Arts, she was classmates with the daughter of Deng Xiaoping, the foremost Chinese leader in the 1980s. After Maxim's opened, top Chinese leaders did indeed become frequent patrons.
However, Song's daughter Xiaohong said that when they first moved back to China, her mother toiled just to get an appointment. She would call, write letters, and bike to the youth labor and textile bureaus to request permits. "Nobody understood what she was doing," Xiaohong recounted. "They just thought she was nuts."
Song Huaigui (in blue and black) with models. Courtesy Core Story.
Song had a certain air about her. Fearless and ambitious, she knew how to connect with people, regardless of language. When she met Vice Premier Wu Yi, she greeted her by warmly addressing her as "Elder Sister Wu." Whenever she talked about everyday matters with someone, she was fond of telling them that they were neighbors.
All the same, she had to remain subtle about her search for models. When she was out running errands or just walking around, she would take note of the young people whose height and appearance matched her criteria. Wu Rongwei was working as a teller at a Bank of China branch when Song discovered him. Sun Youting was standing at the entrance to the Beijing Film Academy when Song saw him and told him about a fashion show. Lacquerware worker Yang Wei stumbled across Song in the lobby of the Drum Tower, a historic attraction in Beijing. Her outfit—a red top, green waist belt, and floral-patterned shoes—stunned him so much that he thought he was seeing things.
Shi Kai, who later gained fame in China and abroad, was 15 when she was discovered by Song and Cardin in the Beijing Hotel. She had been sitting inconspicuously in the hotel café when they saw her on their way back from the bathroom. Gong approached her and explained, "Pierre Cardin is a famous French designer who thinks you have great potential, and he wants you to become his model."
His words bewildered her, despite Song and Cardin's subsequent attempts to explain. "I just didn't understand," she said. "I thought later that maybe [the fashion show] was a mime with costumes. I thought it was cute."
Beijing Hotel in the 1980s and 1990s. Credit: Visual China Group.
With the three models gathered in the conference room of the Beijing Hotel, Cardin gave a brief explanation of the process behind a fashion show through his interpreter before introducing the modeling coach he had recruited from France. About 190 centimeters tall, he wore "light blue boots, white pants, and a light-blue sweater with a white coat slung over his shoulder," Gong recalled. "He just glided over to us. The way he walked was just incredible!"
"You try now," Cardin told them.
Gong had never thought twice about walking; it was one of the easiest things in the world. But watching his own walk in front of the mirrors, he was horrified. The coach had walked with ease and confidence, his movements smooth, yet Gong looked robotic and stiff "like an idiot," he said.
He was afraid to continue, thinking he would only humiliate himself further. "Is this a specialized skill?" he asked Cardin.
"Very much so," Cardin replied. "Models set an example for ordinary people."
But in the end, both Zhang Tielin and Fang Shu turned down the opportunity, citing conflicts with their filming schedule.
Cardin turned to Gong and asked, "What about you?"
After Qinsi wrapped, Gong had tried to explain the synopsis of the film to his parents, who always fell asleep before he could finish. But when they saw the World War II romantic tragedy Waterloo Bridge, his father had cried just as much as Gong, who was bitterly disappointed and envied the classic style of its star Robert Taylor. Back then, Chinese films kept recycling the same old-fashioned ideas, looks, and dialogue. They were still a long way off from exploring higher themes like human nature and beauty.
Gong made up his mind. "I accept," he told Cardin.
Taken by surprise, Cardin blurted, "Why?"
3.
For Gong, the moment following Cardin's question was a classic 1980s moment: he walked over to the window and stared out at the barren streets of Beijing, his heart heavy with memories of the past decade.
His father was once the largest fabric supplier in Beijing, while his mother was a highly skilled dressmaker who specialized in qipaos, a traditional Chinese one-piece dress. Given their jobs, he lived a comfortable childhood. He owned a double-breasted Lenin suit and attended the prestigious Beijing No. 2 Experimental Primary School, along with the children of prominent politicians and businessmen. His classmates even included the daughter of Liu Shaoqi, a Chinese politician who was once groomed as Mao's successor. Although he inevitably saw children in his neighborhood gnawing on burnt charcoal during the Great Famine from 1958 to 1961, he remained sheltered otherwise.
In the early 1960s, his mother often went to evening galas at Zhongnanhai, the Communist Party of China's headquarters in Beijing, where she made sure that the women's qipaos were well-fitted. Gong would occasionally tag along and once met Premier Zhou Enlai, who rustled his hair and complimented his looks. During intermission another time, he delivered a napkin to Chairman Mao, who took his hand and said, "What a graceful child. You must learn to dance once you're older." Gong replied that he was still too young.
To a young child at the time, the world must have seemed so right. On weekends, Gong people-watched at the nearby Xidan intersection, daydreaming about his future self and wife. He noticed that women were wearing qipaos with an increasingly higher slit, while men's boots featured more pointed toes.
Life should have allowed him to grow up and chase his own dreams. Then reality struck. All of a sudden, something incomprehensible pervaded his world: large banners, one after another, that overwhelmed the entire wall from his house.
Modernity disappeared overnight. Gong saw green-capped Red Guards going up and down the street, tearing up qipaos and cutting off women's curls. Coming home from school three days later, he found the front of his house in utter disarray. He climbed up his neighbor's wall to peer over and saw his parents kneeling on the ground, their heads shaven as revolutionary cadres beat them with belts. The yard was strewn with clothes, jewelry, and shattered antiques.
He didn't understand what his parents had done and didn't know enough to be afraid, but his neighbor grabbed him, saying, "Stay here!" After the Red Guards left, his father laid in bed without moving, bloodied from the attacks. His mother was cooking dinner. Gong asked her, "What happened?"
"The revolution has started."
"What kind of revolution?"
"One that targets people like us, capitalists. They're going to raid the house, so we need to cooperate, or else it'll be worse," she said. "Eat now; we might be able to get through this."
He couldn't sleep that night. At around 3 or 4 in the morning, his mother came to wake him and his brother, telling them, "There are some things in the house that we need to get rid of, so you two have to wake up at this time every day, starting today."
"What things? Is it weapons?"
"Just some gold bars that we don't need anymore—we have to throw them out. If they raid us and find those, the punishment will be even worse," she replied.
She started digging underneath the vines and uncovered two rows of chests filled with gold bars. "Throw a little away each day, one chest per person," she instructed them, "until it's all gone."
Back then, the Second Ring Road was still a moat snaking around the city walls; the subway lines had yet to come. Gong and his brother would wake up every day at 4 a.m., fill their backpacks with gold, and discard them in the river. They wore out three backpacks carrying out the task, the weight of the gold leaving bloody scars into their shoulders. Six months later, the Red Guards sent their parents to Shijiazhuang, Hebei Province to undergo labor reform.
After his house was raided, his classmate told him that his family had also been targeted. They dashed over to his house near Shifuma Street (now Xinwenhua Street) and found the classmate's father, bloodied and kneeling on a table. The Red Guards ordered his eldest brother to beat him until their father was on the verge of death. Then his second brother picked up a shovel and, with an flourish, decapitated their father.
Gong never forgot what he saw that day. "In that moment, I just thought that we were done for," he said. "All of us."
After that, Gong had to look after his 8-year-old brother. They survived by selling off the paltry remains of their home for 5 yuan ($0.70) apiece: the sofa, the jade pieces, the snuff bottles. They chipped away at the massive banners pasted on the neighborhood wall and sold the pieces off as scraps.
Two years later, they were permitted to visit their parents. They scraped together a bundle of youtiao—fried dough crullers—and took an overnight train to Shijiazhuang. When he turned 17, Gong was assigned to work at the dye house in Xidan, marking the start of his life as an apprentice and supposed "overseas Chinese."
Gong spoke calmly during our interviews. His hair had whitened, but, fastidious about his appearance as ever, he wore a false mustache and changed into a new outfit whenever we met. Then again, he would also openly share that he had bought his pants off Taobao for 100 yuan. He insisted on telling me the stories of his childhood for me to better understand his later choices.
He recalled hiding a screwdriver or wire cable in his clothes when he first started working at the dye house. Danger lurked all around, even in Xidan. He once had a run-in on the streets and was nearly robbed, all because the other guy snarled at Gong for looking at him. He pulled out a dagger, but when Gong countered by revealing his own weapons, he slunk away. After 1976, the same troublemakers traded their olive-green uniforms for bellbottoms and their daggers for recorders, loudly blasting Teresa Teng, a wildly popular Mandopop singer.
"Do I look like I should be carrying a knife around?" Gong asked. "I think fashion is more powerful."
It was these recollections and thoughts that Gong had in mind when he accepted Cardin's offer.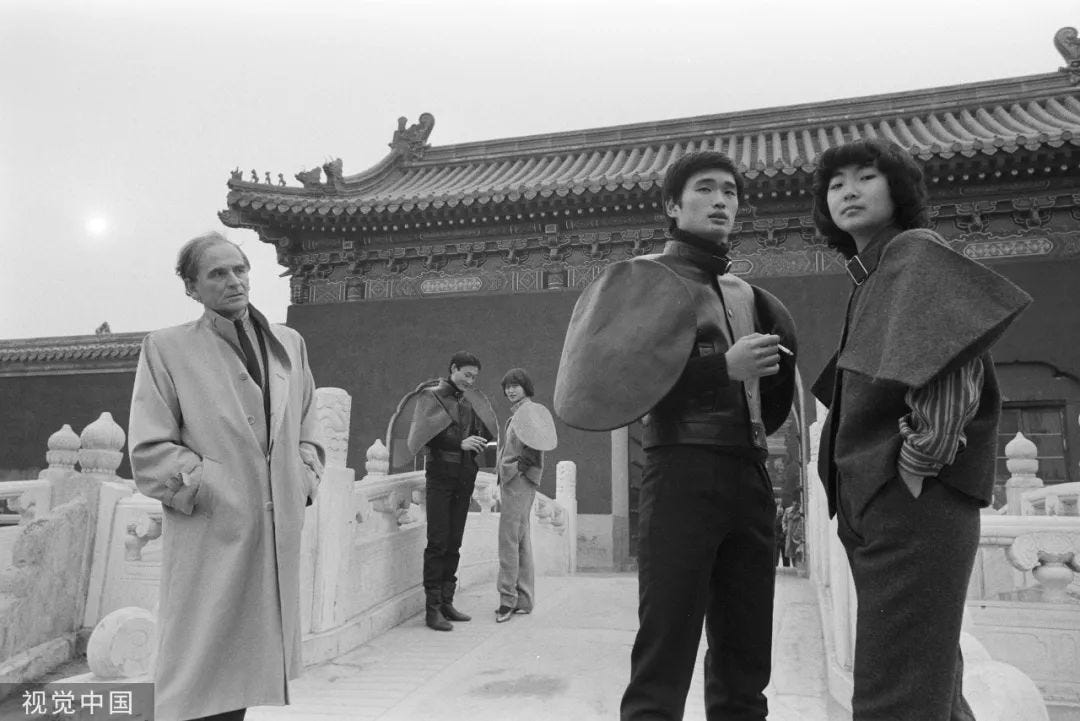 Pierre Cardin (left) with Chinese models. Credit: Visual China Group.
4.
By the end of 1980, Song Huaigui had already made the right connections; secured a room at the Beijing Hotel to serve as Pierre Cardin's China office; and rented a two-story hall in the Drum Tower for modeling practice, where 28 models trained daily from 6:30 p.m. to 9 p.m.
At the start of each training, the models would practice walking in a circle to the beat of the music for an hour. Their instructor corrected their movements and postures, especially the ladies. Thin and around 175 centimeters tall, their figures contrasted with traditional Chinese ideals of beauty, and they had grown up ashamed of their height. As a result, they had developed a habit of slouching their shoulders or covering their chests.
Next, they worked on their steps. The catwalk is different in that models shift their weight between their legs and keep their shoulders still, helping them achieve an smooth walk. Mastering this meant undoing years of habits. Their instructor told them that they would have to practice walking 100 miles before they could successfully catwalk.
Many models buckled under the intensity; some withdrew because of pressure from their families, while others felt the grueling training was not worth the lack of compensation. Of the original 28 models, only 15 remained.
When Gong's dye house learned about his modeling, they felt that he was "pursuing a capitalistic lifestyle" and needed to be reformed, so they reassigned him to a brick factory in western Beijing. He had to wake up at 4 a.m. every day and, despite the wind, had only a tattered cotton-padded jacket to wear. His job was to shape and mold clay before carting them over to the kiln. Once his 9-hour shift was over, he would take a 90-minute bus to the Drum Tower for training.
"Everyone had to deal with a lot of criticism and obstacles," Gong recalled. Song (or Madame Song, as she came to be known) would try to boost morale by stressing the importance of fashion trends and the modeling profession in the future. In the future, people would strive to become like her and their modeling instructor, she said.
The models understood. Once they started talking more to each other, they realized that there was nobody in Beijing quite like Madame Song: she was confident and graceful, while her aura and ever-changing outfits complemented each other perfectly. Sometimes she even went through three different shades of lipstick: one shade for chatting with young people, a darker shade for discussing negotiations, and a third shade for dinner banquets. Some of the female models wanted to borrow her lipstick and begged her for a quick smear. She refused because of hygiene concerns, but she promised to give everyone their own lipstick once the show had wrapped.
The female models all envied her, but there was nowhere in Beijing to buy lipstick. The closest product they had to cosmetics was an anti-freezing cream, which was meant to be used during winter. The bolder, more beauty-conscious models drew on their eyebrows with burnt chopsticks, curled their hair with tongs, and used red paper to add color to their lips.
To achieve fairer skin, they resorted to sticking cucumber and tomato slices on their faces. A few would make a face mask with a concoction of pigeon droppings and egg whites, though some went further and used semen. In an era where poverty was beauty, women had nowhere to go in their pursuit of beauty. Worse yet, they were forced to submit themselves to the drabness of the masses. In the face of such enforced uniformity, beauty became an oddity.
Shi Kai started training two years after Gong and the first cohort. When she walked into that training hall for the first time, she saw a roomful of attractive people and felt that she was the ugliest one there. "I didn't understand what make-up was," she said. "I thought it was rubbing a bit of red on my face and making my mouth look like a bloody mess." When she saw the female models, seemingly gliding in their high heels, she felt that she had never seen a more stunning sight.
Growing up, Shi was always the oddball. She was too tall, her legs too long. She was flat where she should have been curvy and curvy where she should have been flat. "My neck was too long," she said. "People said I was too mouthy and not smart enough." Being mixed, she had a perky butt. In school, the boys would chase after her and jeer at her. She was never able to look like everyone else, so she often got into fights.
She didn't have the confidence to become a model and told Song that she was leaving, but Cardin interjected, "You're the model I admire the most." Later, he told her that he had searched all over China for models. Many of them had the looks, but none of them had moved him—except for her. She was just the kind of Chinese model he had pictured: beautiful, without the self-awareness.
Hearing his compliments, she happily restarted training, but then ennui struck again two sessions later. Her father, a graduate of the prestigious Tsinghua University, wanted her to work in science and engineering, and she had the talents to succeed in those fields if she wanted. From a young age, she had had a thirst to learn as much as possible, and modeling—just a series of monotonous, repetitive, puppet-like movements—seemed so silly. "It's like being put on repeat," she said. "Why not just parade one person back and forth?"
She frequently skipped training, prompting Song to devise different ways of keeping her interested. "Stop monkeying around and sit still!" she would admonish Shi. One night, Song put on some music, shoved a magazine at her, and started explaining fashion. She highlighted the models in the photos and their billowing sleeves as they catwalked.
It turned out to be a significant night for Shi. In that moment, it dawned on her that models had to play a role in their 40 seconds on stage: they had to tell the story of each article of clothing, infusing them with a sense of grace and romance. The clothing comes to life on the models, whose movements express the static beauty of the attire. Shi realized modeling was a worthy, ever-changing profession.
From left: Song Xiaohong, Shi Kai, Geng Boping and two other models. Courtesy Core Story.
The training sessions continued, stretching into an unforgettable period of bliss for the models. By the time their training finished at 9 p.m. in the wintertime, the streets had long emptied, save for the occasional water truck. The models would then practice strutting on the deserted streets, their steps clicking in uniformity. During that time in his life, nothing brought Gong more joy than being able to catwalk to music, even if they did nothing to alleviate his real-life struggles.
5.
The first show to feature Chinese fashion models was set for March 19, 1981. The textile bureau had invited international media to the show, but the models, having never interacted with them before, grew nervous. Song advised them to answer truthfully and tell the reporters "about your job and your family."
The overpass had already been set up at the Cultural Palace of Nationalities, where the show would be held. At the request of the Chinese government, the organizers had hung a curtain dividing the backstage area between women and men. Chaos ensued when they realized that the clothes, which had been made for European figures, hung too loosely on the Chinese models. Song's daughter Xiaohong saw Cardin and his main designer Andre Oliver scrambling to make last-minute adjustments. Hats and accessories had to be improvised. Some pieces of clothing were held together by safety pins, while some were sewn in the back.
The government delegates began filtering into the venue, stone-faced and easily recognizable in their familiar suits. The female officials had short hair; a few wore caps. As the clock ticked down, Song gave them one last word of encouragement, saying, "China cannot always remain shut outside the civilized world." Gong would never forget those words.
As the music and the lights cued, the French stage manager herded the models onto the stage.
Haibin was the third to walk. His first outfit was a mauve Western suit made of velvet, paired with a white shirt, bow-tie, and a cummerbund wrapped around his waist. With everything beyond the stage hidden in darkness, he started walking toward the flashing lights. "I felt like I was walking in some beautiful, mystical galaxy, with stars twinkling before me," he recalled. "My childhood dreams came true that day. I didn't have a care in the world—I was finally living the dream."
When he reached the end of the stage, he had become so caught up in the moment that he forgot to turn around. Instead, he stood there for nearly a full minute as the tears streamed down his face. A Time reporter snapped him in that moment—the radiance on his youthful face, looking both innocent and haunted—and later sent the photo to him.
The 70-minute show showcased more than 100 outfits that Cardin had brought from France. The men each modeled three outfits; the women had five outfits, each made of silk. To dilute the Western feel of the show, the main organizer interspersed performances from the Beijing Opera troupe between the models walking.
Throughout the entire show, Song sat in the front row with the government delegates. She watched their reactions, worried that they would find fault with the show or deem it too explicit. But as her daughter recalled it, the officials remained silent and only clapped politely. Perhaps Cardin's designs had been so novel that they thought it was art, not something to be worn.
By 1983, Cardin's design had grown more popular in China, and regulations over fashion shows increasingly relaxed. Shi was set to walk her first show that October, but when the lights came on and Cardin prodded her to go onstage, she froze. Her mind went blank.
Then the audience began to applaud. "It's not just Mr. Cardin who likes me," she thought. "The audience likes me too! I'd better start walking then."
As the show continued, the atmosphere grew more euphoric. Her last outfit was a wedding dress. When she stepped onto the runway, Gong whispered as he passed her, "Better hold onto your dress. You look like you're over the moon!"
After the first show wrapped, the international reporters did indeed cluster around the models, skeptical that they were all native-born Chinese. A reporter from The Times even thought Haibin was Japanese. "Fine," he retorted. "If you don't believe me, then I'll take you to my house, just across the street. I have my residence permit there, and my parents are at home."
When they arrived at his Xidan hutong, his parents thought he had invited trouble straight to their doorstep. "Our hands were tied," they said. "We tried to stop him, but he likes [modeling] and decided to do it anyway."
The first generation of Chinese models on the Great Wall. Credit: Visual China Group.
That night, Cardin threw a banquet at the Beijing Hotel to celebrate the show, inviting reporters, ambassadors, and Chinese officials. He gave a suit, bow tie, leather belt, and socks to each male model, which he suggested capping off with a brooch or a flower. But it probably never occurred to him that there was not a single flower shop in Beijing. The male models were caught in an awkward situation: they had been dressed from head to toe by Pierre Cardin, and yet they couldn't supply their own flower.
One of the models, Qi Guoli, suddenly had an idea. "I can run back to the vegetable shop by my house," he proposed. "They sell chives with chive flowers."
Haibin agreed, and Qi came back two hours later with his hands full of chive flowers. The models all grabbed a few flowers, tied them together with string, and stuck them in their pockets. Even among the hundreds of guests at the banquet, the Chinese models remained the center of attention. After interviewing them, the reporters asked what they had pinned to their breast pocket. Cardin also grew curious, but their repeated questioning only made Gong miserable. "Other people have flowers pinned to their suits," he said, "but Chinese models only have vegetables."
6.
The early years after the modeling cohort formed were happy years for them, just as it should have been. After Maxim's opened, the models were often invited back and would put on smaller runway shows for the guests. They were also privy to an entirely new world: one of freedom, affluence, diversity, and decorum. On merrier occasions, guests would start dancing on the small stage to the beat of the band. Famed violinist Lu Siqing would give impromptu performances; Li Yan from the National Ballet of China would perform The Dying Swan.
Name any celebrity from the 1980s, and they most likely came to Maxim's at some point. It was there that Cui Jian, considered the father of Chinese rock music, first performed his famous single Nothing to My Name; that Black Panther, a Chinese rock band, smashed their guitars; that Liu Xiaoqing, a leading Chinese actress of that decade, came to understand fashion; that Alain Delon, one of the most prominent European actors, hosted his 50th birthday bash; that Italian director Bernardo Bertolucci shook hands with China's Minister of Culture before shooting The Last Emperor.
Leslie Cheung—famed Hong Kong singer, actor, and gay icon—regarded Maxim's as his home in Beijing. The last photo of him was taken there, before he took his own life. Even the youthful-looking actor and director Jiang Wen stopped by Maxim's after winning an award, clutching his trophy for a souvenir photo. Throughout this hubbub, Madame Song—always colorfully dressed—could be found welcoming guests at the entrance. With all its opulence and history, Maxim's is enough to overwhelm any newcomer. Every corner seems to brim with countless stories and names; every inch of the carpet has been stained with wine, albeit largely faded. The sunlight colored the interior in shades of maroon, gold, and blue, but that only seemed to emphasize its duskiness.
The opening of Maxim's in 1983 attracted hordes of curious onlookers. Credit: Visual China Group.
"[Maxim's] seems to come from another era," Song's daughter Xiaohong said, painting the story behind various renovations. The curved mirrored wall and the cables had been imported from Japan. The iris-shaped hanging lights and the modest wall murals had come from France. They had already changed the custom-made seating and dining utensils, but the carpet, made in Scotland, was still the same one from 1981.
When they were hiring the staff at the time, Cardin had told Madame Song, "If you can't find people who are both clever and attractive, then make sure they're attractive." He never thought about profits. They hired French chefs and handed operations to a manager who had been trained at Paris Maxim's. A meal at Maxim's de Pekin cost around 500 yuan, but the average wage of Beijing residents at the time was only 40 yuan, while an apprentice like Gong only made 16.5 yuan.
If not for Madame Song's invitation, the models never would have stepped foot into Maxim's. One of the male models, Geng Boping, worked as an electrician at a winery. By the time he finished work, he would be completely covered in oil. He would shower, change into his suit, and then—to the surprise of onlookers—squeeze his way onto a bus to head to Maxim's, where another world awaited.
Meanwhile, the female models could only change in the restaurant bathrooms, either because their outfits were too conspicuous or because it was too cold outside during the wintertime to be wearing them. For the women, their height or their figure used to be a source of embarrassment, even ruining their chances at a relationship. But as they mingled with the well-heeled clientele at Maxim's, their boyfriends or husbands could only wait underneath the streetlamps of Chongwenmen Street, just as they had waited during the training sessions. Unwilling to be seen next to the male models, though, they rarely showed their faces.
The first generation of models soon struggled to reconcile their former lives with their new reality. As Geng Boping said, "our hearts had strayed." They began to quit their former jobs. Gong, Geng, and Yang Wenban started a modeling training course, charging a registration fee of 0.50 yuan. More than 3,500 signed up, pushing and shoving their way into the office. By that time, Gong, whose face had been plastered in ads all over Beijing's shopping street and airport, had become as famous as Liu Xiaoqing.
But it was all too much, too soon as they gradually realized that they were ahead of their time. They resorted to touring across the country with Chinese singers Mao Amin and Na Ying, whose shows were interspersed with cultural performances like crosstalk or the erhu. As they performed, the audiences would smoke and chew pumpkin seeds, like a tableau straight from a Jia Zhangke film. (One of the most prominent names of the sixth-generation movement of Chinese cinema, Jia Zhangke focuses his films on the marginalized in Chinese society contending with the consequences of the country's rapid globalization.)
Gong had also led the models to Shenzhen, one of the leading cities of reform, for a stint. They would attend banquets, and the female models would sit with the individual guests and chat with them. They reminisced about the Hong Kong tycoons and their liberal spending, how "a small squeeze or touch" could easily net them 5,000 yuan in earnings. Now, they were making a mere 10 yuan for their shows.
Their time in Shenzhen was short-lived. All of a sudden, the karaoke halls and dance halls that sprang up began using modeling as gimmicks, leading to more sexualized performances. Once again, the modeling profession was being stigmatized.
Shi, the model who had caught Cardin's eye, came from a military family. When her father learned about her modeling, he ordered her to pack her things and leave the house within half an hour. With Song's help, the 18-year-old was able to reach France on her own.
After their last visit to Maxim's in 1990, Geng and Yang Wei left for Europe. They had both previously been to the Soviet Union, selling leather goods and parrots. Meanwhile, Gong raised snapping turtles in Guangdong.
Another male model, Qi Guoli, died, but there were two versions to the story. Haibin said that Qi had trouble letting go of the chive flowers incident. It preoccupied him so much that he once started arguing with a customer, who pulled out a knife and stabbed him in the back. But Geng remembers it differently: Qi was beaten to death trying to protect his wife, who worked as a singer at karaoke halls.
Just like that, the first cohort of China's fashion models went on and lived their separate lives. By the time the modeling profession began to gain steam in the 1990s, they had all but disappeared.
As we talked about his experiences during that time, Geng drove through the deserted streets of Qinhuangdao, at times growing a little emotional. He recalled three couples among their group of models, including him and his girlfriend, though their relationship ultimately fizzled. After he came back from Europe, he heard that one of the male models had divorced and remarried, while the female models had divorced and moved overseas, or they had married wealthy businessmen. They all teased each other for being so heartless, though this may well have been the only possible outcome of lives so shattered by hope and desire.
In 2006, the models suddenly received word of Madame Song's death. She had died from lung cancer, just like her husband Maryn Varbanov, who had passed away in 1989. She had been diagnosed only six months prior to her death, but, thinking she could fight it, kept her illness a secret. After her death, Maxim's was transferred to Chinese ownership, officially closing the chapter on her time at the restaurant.
Calm and collected, Song Xiaohong told the final chapter of her mother's life and then showed me out through the back entrance of the restaurant. Chef Li, standing by the door, politely shook my hand and added, "I've been here for 33 years." Three decades might be a long time, but never again would there be such stories as those of Song Huaigui and the first cohort of models—all seemingly emerging out of the blue, like figures from another world.
Translator Katherine Tse is a recent MA in Translation graduate specializing in Chinese to English. She is based in the U.S.